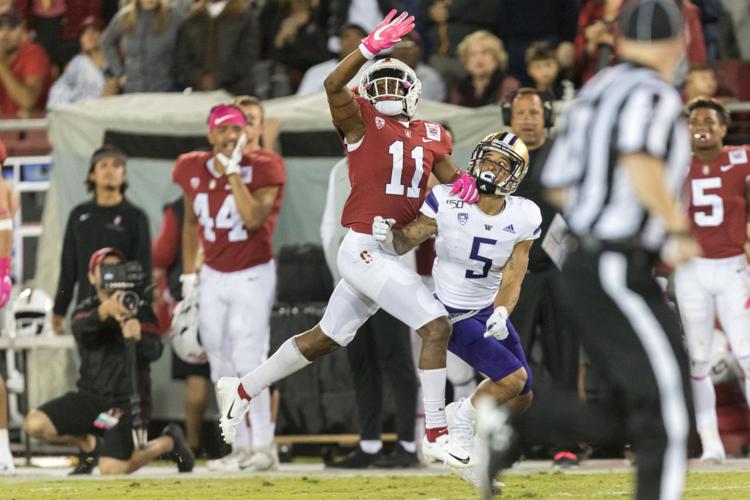 The Washington football team has fallen out of the rankings for the first time this season after a 23-13 loss to Stanford Saturday night. Before we turn the page from this past weekend's loss, let's get out a few more notes from the devastating defeat.
Lots to blame for passing woes 
Fans will point to the drops or the scheming by offensive coordinator Bush Hamdan, but the blame can be passed along to pretty much everyone on the UW offense. Jacob Eason faced more pressure than he did all season against the Cardinal front, with the pressure directly causing several mistakes. 
As a result of the pressure, Eason was forced to zero in on one target for most of the game. That target turned out to be Aaron Fuller, who totaled over half of Eason's targets to receivers. On second review, I found that most of those targets were unsuccessful, especially the ones that were for longer gains down the field. 
On Eason's passes that were thrown down the field, roughly more than 10 yards, he was just 4-for-14. Twelve of those attempts were targeted to Fuller, who hauled in four of them for long gains. The other two targets went to Andre Baccellia, who really had no chance to make a play on either ball.
For an offense that has said that it wants to take more shots, Washington, to its credit, has taken more shots but to little success. The other side of that number may look even worse, as Eason was just 12-of-22 on throws shorter than 10 yards, which is a dismal 54% including throwaways.
Other numbers look even worse for the Huskies. Fuller accounted for over 80% of Eason's yards, and because the quarterback spent much of the second half on his back, Eason zeroed in on Fuller in rocky situations. 
The interception Eason threw was as he was being hit on a 50-50 ball that Fuller slipped on in one-on-one coverage. 
The Huskies talented, but unproven, young receivers — like Austin Osborne, Marquis Spiker, and Puka Nacua — saw the field on Saturday but none saw targets go their way. Nacua has only been targeted once this season, and he scored a touchdown, while Spiker has yet to see a target and Osborne has one catch. 
Petersen has stuck by his older, more experienced receivers so far this season, but as more and more clamoring for younger guys arises, it will be hard to keep the young playmakers off the field.  
Ugly trend continues for UW run defense
Stanford attempted just two passes in the fourth quarter Saturday night, mostly because of how proficient the Cardinal run game was. When backup quarterback Davis Mills went out of the game with an apparent leg injury, the threat of the pass was effectively wiped out with 10 minutes to go.
It didn't matter. 
By my count, Stanford tailback Cameron Scarlett had at least 80 yards after initial contact on the game, and on the Cardinal's final drive that effectively iced the game, the fatigue on the UW defense began to show. 
Scarlett consistently ran over defenders en route to 151 yards on the ground, in what has now become a troubling trend for the Husky defense, which allowed over 200 yards rushing to USC last week. While that could almost be excused because the Trojans air raid employs a run game that takes you off your guard, UW went into this week knowing that Stanford was going to pound the rock. 
Next week presents an even stiffer test for the run defense as they take on one of the top ranked rushing offenses in the country in Arizona, which averages over 250 yards on the ground per game. 
Other notes
- Richard Newton was on a tear Saturday before sustaining what looked like a serious leg injury in the third quarter. The redshirt freshman ran for 64 yards on just 10 carries, and it seemed like only a matter of time before he took over as the feature back this season. With his status for the rest of the season unclear, the Huskies will have to continue to rely on Salvon Ahmed and Sean McGrew.
- In one positive note from yesterday's game, the Huskies are still outscoring opponents by a wide margin in the first quarter, and after a 7-3 start against Stanford, they are outpacing opponents 84-6 in the opening frame. 
Reach Sports Editor Alec Dietz at sports@dailyuw.com. Twitter: @AlecDietz
Like what you're reading? Support high-quality student journalism by donating here.