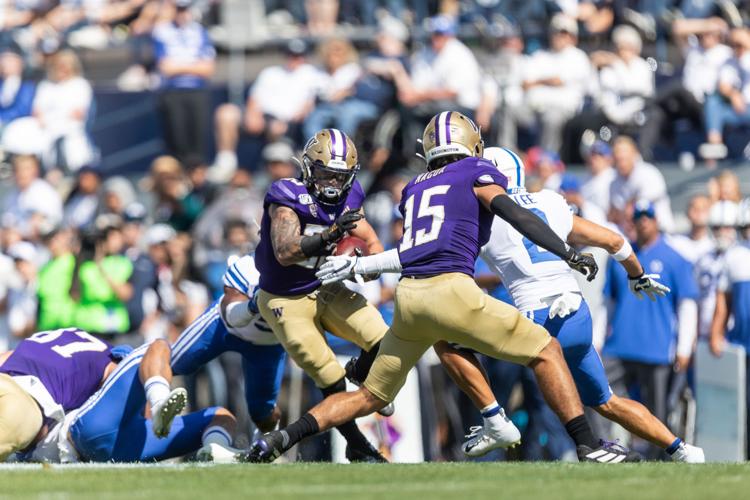 PROVO, Utah — Perhaps he could feel it on the field with his performance, but after the game immediately ended, Sean McGrew didn't know he ran for a career high. 
"How many yards did I have?" he asked after the game. 
When he found out that he had rushed for a career-best 110, he simply responded, "hell yeah." 
But when asked for his response to that number and what it meant to him, he gave a surprising answer. 
"That's awesome," McGrew said. "Honestly, stats don't matter to me. It's just about doing whatever I can to win. Salvon [Ahmed] was down and we had to carry the flag… stats are cool, but winning is even cooler."
When preparing for the game this week, McGrew knew that he would be in line for more carries with the absence of Ahmed, who did not travel with the team to Provo, but said that he didn't change his preparation because of it. 
In fact, he said that he prepared in the same way that he always did week-to-week, with just an added element of playing on the road and getting his calls right. With a career-high 18 carries against BYU, McGrew eclipsed 100 yards for the first time in his career and was a strong first option alongside Richard Newton in the offensive backfield. 
"I thought he did a nice job," head coach Chris Petersen said. "He found the creases, put his pads down. He's not the biggest guy, but he does a good job of falling forward, that's what we want."
For a tailback room that calls itself "the Stable" and preaches an excellence by committee, losing Ahmed didn't phase the group. 
"It's just about us being the best running back room in the country," McGrew said. "Every time we get the opportunity, all of us, we want to show that. Anyone in the room can ball at any time."
And ball they did. Along with McGrew's 110, Newton added 83 yards and a touchdown on a 5.0 yards per carry average. McGrew averaged 6.1 yards per carry. 
While Petersen did not rule out Ahmed for Washington's next game against USC, he will undeniably still rely on McGrew and Newton for carries in key situations moving forward, even with Ahmed in the lineup. 
Reach Sports Editor Alec Dietz at sports@dailyuw.com. Twitter: @AlecDietz
Like what you're reading? Support high-quality student journalism by donating here.