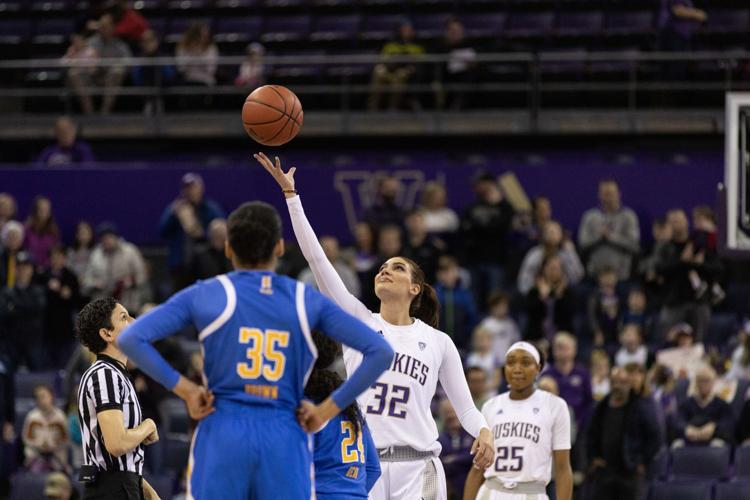 On her Senior Day, GiGi Garcia dressed for the Washington women's basketball team for the first time in her career. When it came time to announce the starters, her name was called and she went out to take the opening tip for the Huskies. 
"For her to be able to take the court on her senior night, to me, is just an ounce of something we can give her for what she's given us," head coach Jody Wynn said. 
At the end of the game, six points up on No. 8 UCLA with only three seconds remaining, Wynn made the decision to sub Garcia in for the inbounds pass.
After four years at Washington, Garcia saw only a few seconds on the court, but those moments were incredibly meaningful for her. 
"This is definitely a really special moment that I will for sure be telling my kids at all times," she said. "It was a moment I assumed was going to be sad, but it's definitely the happiest experience I've had here."
A number of injuries kept Garcia from playing basketball in her four years at Washington. She suffered two ACL injuries in high school and three at the UW, having four separate surgeries. 
While rehabbing from her fourth surgery, the graft failed and she chose not to undergo surgery again. By the time Garcia's senior night rolled around she had already come to terms with the fact she would never play basketball again. 
"She's been an inspiration to every single one of us since we all stepped on this campus with her," Wynn said. "She's a strong leader, she's a strong woman, and she's going to be able to fight through any kind of adversity in life because of what she's battled through for four years here."
Garcia's start was a surprise for her teammates and her family, who traveled from Sacramento for her Senior Day despite believing she wouldn't play. Senior Mai-Loni Henson had asked the coaches if she could wear Garcia's No. 32 to honor her on the court, but the coaches told her it wouldn't be possible in order to keep the start a secret. 
When Garcia took her sweats off to reveal her uniform in the tunnel just as starters were being announced, Wynn said the team "went nuts." 
"I found out when she tapped me on the shoulder walking out before our names were being called," senior Amber Melgoza said. "It was very emotional for me and Mai especially. It's amazing. I was so happy for her." 
Garcia spent four years with Washington as a presence on the bench and a key part of the team without stepping on the court. On her Senior Day, she was finally able to put on a jersey and play for Washington. 
"My team has done so much for me," Garcia said. "They've supported me throughout all these hard times. I know they've always wanted to have me out there on the court and pushed me to get to that point. Physically I knew it would never be possible but I wanted to surprise them and my family and give them that gift on Senior Night."
Reach Engagement Editor Hailey Robinson at sports@dailyuw.com. Twitter: @haileyarobin
Like what you're reading? Support high-quality student journalism by donating here.