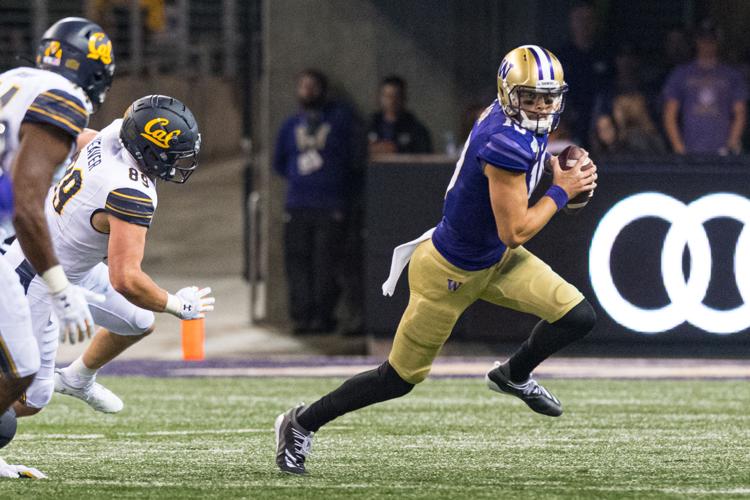 Going a perfect 3-for-3 in the red zone is pretty decent.
Doing so with three field goals is less so. Especially when the game ends up being decided by one point.
But that's exactly what happened in the No. 14 Washington football team's 20-19 loss to Cal. The Huskies (1-1, 0-1 Pac-12) started just one possession inside their own 25-yard line. Eight of their 11 drives ended in Cal territory. But the Dawgs managed just one touchdown, settling for four field goals.
"We'll have to put the tape on for that one, but we're certainly kicking too many field goals isn't going to get it done for us," head coach Chris Petersen said after the game. "That was frustrating, really frustrating."
And as the game got close in the second half, the Huskies got worse near the goal line. On its only drive of the third quarter, Washington got to first-and-goal from the Cal 4-yard line, then proceeded with a rush for no gain and two incomplete passes, settling for a field goal. Cal got the ball back, marched down the field in under five minutes, and took its first lead of the game, 17-13.
Washington's next possession once again got to the red zone, with the Huskies getting first-and-10 from the Cal 11. After driving down the field with eight runs and a few quick, timely passes, offensive coordinator Bush Hamdan went for a long-developing play-action rollout, with Jacob Eason finding Cade Otton in the flat, where he was promptly leveled for no gain.
Behind progression, the UW managed to get to fourth-and-short, but once again the Huskies couldn't convert, with a false start forcing them into another kick.
"I definitely think we had a good day, we just didn't finish drives," center Nick Harris said. "We were having really good drives, we ran the ball pretty well, we just weren't finishing drives. That kind of hurt us. We were getting good field position, and we'd get all the way to the red zone and couldn't finish."
All told, Washington ran eight plays in the red zone in second half. Four of those plays didn't gain any yardage, the other four combined for just 24 yards, and the Huskies managed just one first down.
Eason went 1-for-3 in the red zone, for 0 yards.
In the past two years, Washington has gone 5-for-5 in the red zone against Cal. On their first drive of last year's contest, Jake Browning found Ty Jones in the end zone from 3 yards out. Since then, it's been four field goals on four trips inside the Cal 20.
The final results after leaving 12 points up on the scoreboard? One Cal win by two points, and one Cal win by one.
"Definitely have to clean that up in order to take that offense to the next step," Harris said.
If the next step is beating the Golden Bears, that would definitely seem to be the case.
Reach Managing Editor Josh Kirshenbaum at sports@dailyuw.com. Twitter: @J_Kirshenbaum
Like what you're reading? Support high-quality student journalism bydonating here.