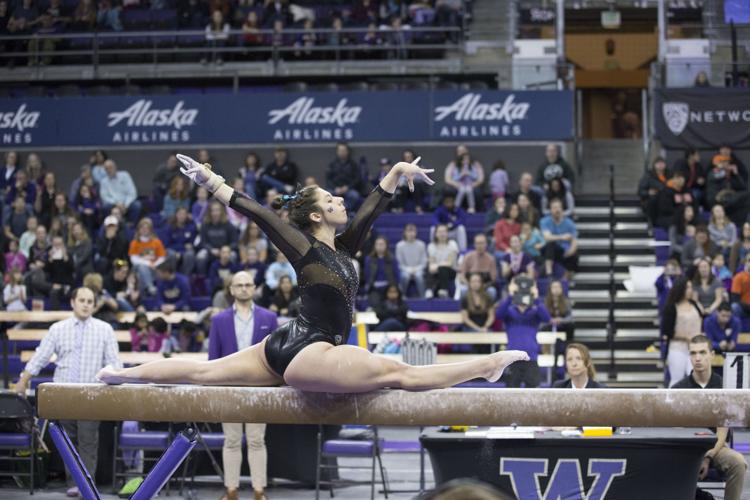 The Washington gymnastics team is still in high spirits after losing to No. 8 Nebraska this past Saturday. Next up is Pac-12 competition, and first in the Huskies' sights is Arizona where they'll head to Tucson to take on the Wildcats.
"We're really excited to just have a quick turnaround to our next meet against Arizona," junior Michaela Nelson said. "It's a Pac-12 meet, so that'll be a lot of fun."
For this young UW gymnastics team, getting those first-meet jitters and nervousness out of the way in Lincoln was a positive step and they are pleased with the results, understanding that they are at a starting point and will only improve from here.
"They did a good job but there were some silly mistakes, which is typical for the first meet," head coach Elise Ray-Statz said. "We just want to get over that hump really quickly, we really want to settle in by this meet."
This next meet against Arizona will be telling for the Huskies as the team gets used to what collegiate gymnastics really looks like.
"Personally going into this next meet I just wanna get comfortable with competing in the college atmosphere," sophomore Geneva Thompson said. "And working on getting one thing better each meet so that at the end of the season, everything just builds together and works out."
The coaching staff is also putting an emphasis on mindsets and teamwork this season for the Huskies. Even though gymnastics can tend to be individualized, the Dawgs are working to build a strong team mentality.
"Our motto this year is 'No pressure, no diamonds,'" Nelson said. "I think that really works for this team because we're a really tough team, we're a really gritty team, and we've been practicing that a lot since our first day of pre-season in September so we know we have the preparation. We just have to keep working in the gym and it will show up when we want to compete."
The Huskies are optimistic about their upcoming season and with a good balance of experienced returners and energetic freshmen, it could be the perfect recipe for success.
"I think we're ready to just settle in," Nelson said. "We know we're a really good team this year, we've been working really hard this year. We just have to trust our training and really just go out there and have fun."
Reach reporter Madison MacPhee at sports@dailyuw.com . Twitter: @madison_macphee