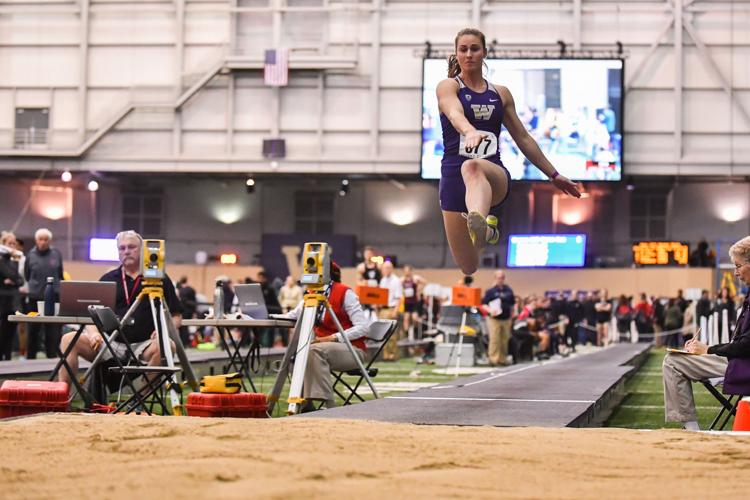 At the Bryan Clay Invitational, sophomore Hannah Rusnak crushed the Washington heptathlon record by earning 5,642 points. With the Pac-12 Multi-Events Championships looming, Rusnak is hoping to carry the momentum from her previous success.
Jumps and multis coach Toby Stevenson emphasized the importance of compartmentalizing each event in preparation for the heptathlon.
"It's about momentum," Stevenson said. "In sports, we want to gain momentum. I want to use that momentum to keep things going this week. The idea is that we take one day, one jump, one run, one thought at a time. We don't get ahead of ourselves."
Last season, Rusnak scored 4,934 points which was good for 10th overall at the Pac-12s, but ranked her fifth in school history and broke the freshman record. Rusnak has carried that success to this season by setting multiple personal records. She improved her long jump by two feet, and her heptathlon mark by over 600 points.
In Stevenson's first season, he has seen how Rusnak's willingness to be great has driven her to develop physically and mentally. He thinks changing her mindset has helped her improve drastically.
"She's one of those athletes that are hungry to get better," Stevenson said. "We both got a bit lucky. She got a brand new staff that cared about the multis, and I was lucky that there was an athlete that's physically capable of doing what she's doing. I've been trying to get her mentally where she is physically. I'm trying to get her outside of the high school mentality to believing she is a legitimate contender, and just to be mentally aggressive and positive."
Each week, Stevenson tries to strategize to help Rusnak gain a competitive edge by finding events where she can improve drastically to get more points. During practice, he makes sure she's ready mentally for those moments.
"We've been focusing on certain aspects of her competitive adventure because those are more valuable than others," Stevenson said. "We individually focus on events where she can improve a ton, but consistent in the fact that it's one event."
Currently, Rusnak is seventh in the heptathlon in the NCAA West region, putting her position to qualify for NCAA West Preliminaries. Rusnak will travel down to Tucson, Arizona to compete in the two-day Pac-12 Multi-Events Championships this weekend in an attempt to preserve her standing, and maybe earn some hardware along the way.  
Reach reporter Daniel Li at sportsdaily@uw.com. Twitter: @Daniel_Li7
Like what you're reading? Support high-quality student journalism by donating here.