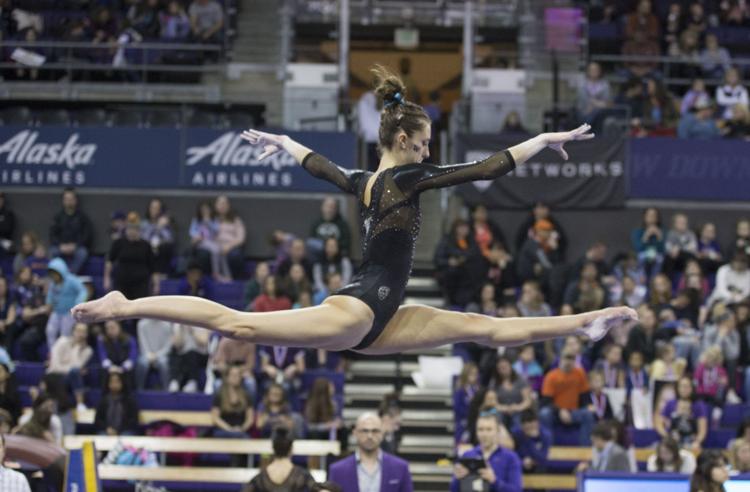 A stellar beam showing highlighted a meet that otherwise left the No. 10 Washington gymnastics team disappointed with its performance. Despite beating No. 22 Stanford by over a whole point, 196.475 to 195.450, not meeting a goal of a third 197 score in a row was a blow to the Huskies' upward trajectory in scoring and in the college gymnastics rankings.
While a 196.475 is not a bad score by any means, and is in the top half of the Huskies scoring this season, the Dawgs have achieved higher scores in recent weeks and wanted to continue that tonight.
"Today wasn't the best meet but by no means was it a bad meet," senior Hailey Burleson said. "We had two such stellar meets before this so this meet was a little bit of a lull."
It was the little things that cost the Huskies, on vault and bars especially. As usual, Washington performed best on floor and beam, scoring a season-high 49.425 on beam thanks to 9.900s from Burleson and senior Joslyn Goings, as well as a career high 9.925 from sophomore Evanni Roberson to win the beam title.
"I'm really happy with my beam performance and everyone else's," Roberson said. "That's a pretty strong event for us so we went out there and just did what we we're used to."
While the Huskies didn't achieve a season high on floor, they still put on a good showing, scoring a 49.100. Burleson tied with Stanford's Kyla Bryant for the floor title with a 9.875, and 9.850s from senior Zoey Schaefer and sophomore Maya Washington added to the strong team performance.
The Huskies struggled on vault, scoring a 48.900, closer to their scores in earlier meets of the season. On vault, and on bars as well, small mistakes added up to scores a few tenths lower than the ones that earned the Huskies their two 197s.
"We're a little disappointed with this performance just because we know we're capable of the little details we missed today," Roberson said.
While the Huskies struggled in their first two rotations, and seemed to come out with their usual confidence on beam and floor, the final two rotations weren't enough to pull their score up to a 197. They still achieved a resounding win over Stanford, who, despite the strong performances of Kyla Bryant and all-around title winner Elizabeth Price, also struggled in the early half of the meet.
The win over Stanford capped off a four-meet run against top Pac-12 teams, the Huskies coming out on top of three of those matchups. Next week, Washington will head to Southern Utah with hopes of cleaning up the small details and achieving another top score.
Reach Managing Editor Hailey Robinson at sports@dailyuw.com. Twitter: @haileyarobin