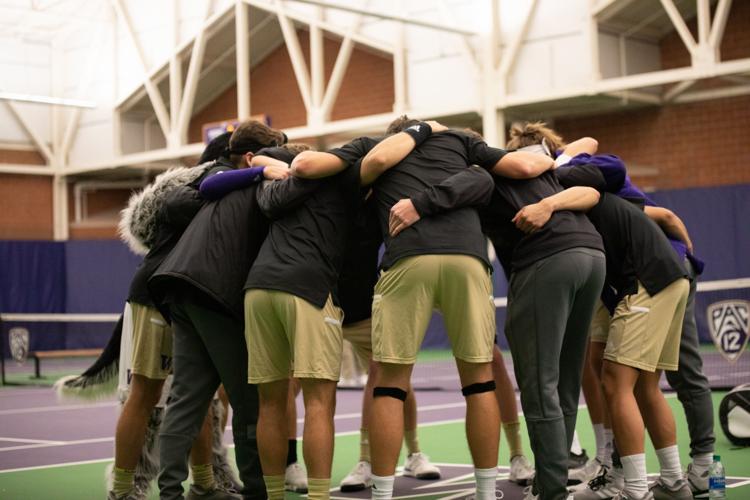 Despite the sharp end to the spring season and the uncertainty of sports in the upcoming months, there is still hope for next spring season, and the Washington men's tennis team is looking forward to it. 
The UW will add three new recruits to its 2020-21 team, with sophomores Nikit Reddy and Clement Chidekh and freshman Han Chih Lin joining the Huskies.
"We were a young team this past year," head coach Matt Anger said. "And we're going to be a very young team again, but with a little more experience."
The three new players will add to the already young, freshman and sophomore-heavy team which faced mixed success last season, ending at 9-7 (0-2 Pac-12) when the season was cancelled. 
Six out of the 10 players from this past season have chosen to use their extra year of eligibility granted to spring athletes. 
Men's tennis players who have chosen to use their extra year will appear on the roster as the same class they were last season. Players who will not use the extra year of eligibility will move up from their respective years as usual. 
The only exception to this will be sophomore Alexis Alvarez, who technically played last season as a junior, but will use both the extra year of eligibility and apply a medical redshirt year that was approved near the end of last season. Alvarez did not play during the 2018-2019 season due to a back injury. Both the medical redshirt and extended eligibility years will make him eligible as a sophomore next season. 
The combination of new players, freshmen on the team opting to continue as usual, and several of last season's sophomores to use their eligibility makes next year's roster an unusual one. The roster, as it stands right now, will consist of one senior, two juniors, one true freshman, and most notably, eight sophomores. 
The unusually large number of sophomores presents some advantages and disadvantages to work around during seasons in the near future. 
"If you were to look at who has an advantage as far as schools with the extra year of eligibility, this coming year doesn't particularly favor us," Anger said. "It favors schools that had two or three or four seniors."
In general, teams with more seniors often have an advantage over younger teams with less match and practice time. Seniors simply have more experience, and next season Washington will only have returning senior Thibault Cancel. 
Having eight sophomores on a 12-person roster poses difficulties for the young team next season, but should provide an advantage in the long run when those players gain more experience and eventually make up an experienced group of seniors themselves. 
"It might be kind of difficult short-term, but good long-term," Anger says. 
Anger also acknowledges that in three years however, there will be an eight-person drop off when the seniors graduate, once again beginning a new generation of players. 
The young squad hopes to have a close-to-normal season next year, where they can begin to practice together in the fall and play during the planned spring season. Despite the coming months being in the air, the team is still looking forward to their time together, whenever that may be. 
"I think we're headed in the right direction," Anger said. "I would have loved to have been able finish this year just like everyone, but I am incredibly excited about next year."
Reach reporter Sydney Nash at sports@dailyuw.com. Twitter: @sydneym_nash
Like what you're reading? Support high-quality student journalism by donating here.