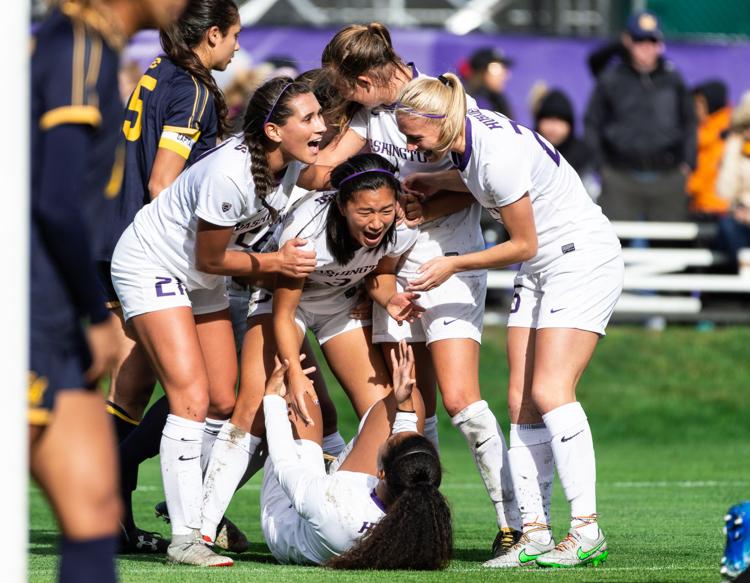 The Washington women's soccer team's four goal first half lifted it over California for its first win in the month of October, by a score of 4-1.
The scoring started early for the Huskies (8-9-1, 3-7 Pac 12). Defender Kaylene Pang was in the right place at the right time for a rebound off a corner kick that slipped out towards her at the top of the box and sent the ball up and over the keeper to give Washington the lead just seven minutes in.
"I think earning corner kicks and earning fouls was really important to this game, because then you start a lot off of set pieces," Pang said.
The Dawgs created their second goal of the day with Ameera Hussen scoring off a free kick that came just outside of the 18-yard box. Olivia Van der Jagt soon followed that up with her sixth goal of the season off of a Summer Yates assist.
The Golden Bears (5-11-2, 1-8-1 Pac-12) entered the game allowing 12 goals in their previous four matches and Washington took advantage. The UW took just over 26 minutes to score more goals in this game than it had in its previous six.
"There wasn't a lot of talking done before the game about what needed to be done," head coach Lesle Gallimore said. "It was more just get out play the way we've been playing, but finish the job."
The scoring continue for the Dawgs. Pang was able to get a feed from Van der Jagt in the 31st minute and sent a shot from the right side of the box into the back of the net. Her second goal of the afternoon was the first time this season a UW player has scored multiple goals in a game, let alone a half.
"Kaylene is just something else," Gallimore said. "She does it on both sides of the ball."
On the other side, keeper Siena Ruelas saw 13 shots come her way and notched seven saves for the third time this season.
The Dawgs' first win in nearly a month came on senior day, and seniors Pascale Dumesnil, Anissa Dadkhah, and Sam Kokoska saw their last game on Husky soccer field.
"It feels so good [to get a win], we love our seniors so much," Pang said. "I feel like this was just a great testament to them and the amount of work they've done for four years."
Reach reporter Josh Eddy at sports@dailyuw.com Twitter: @JoshTreEddy