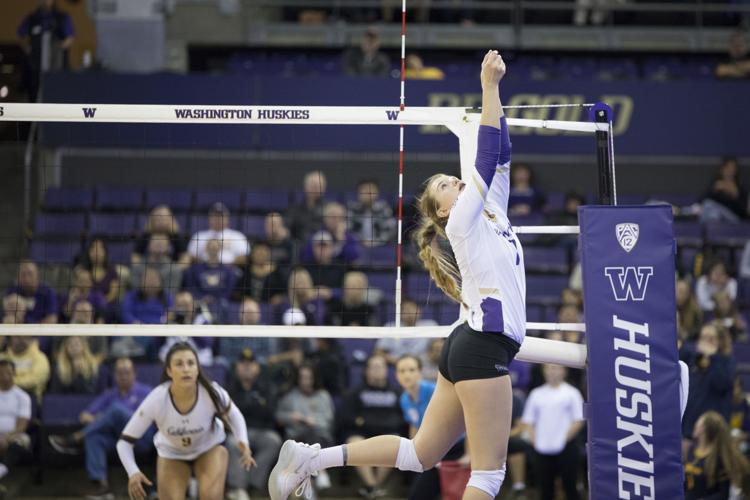 Summer break didn't mean a break from volleyball for sophomore setter Ella May Powell, who was a member of the US National Junior Team that competed at the FIVB Women's U20 World Championship in Aguascalientes, Mexico. 
Powell was one of two setters on a 12 player roster following a week-long training camp in Colorado Springs. Team USA went 2-1 in the first round of play and 0-3 in the second round to finish at No. 8 in the 12 team tournament. 
"It was such a cool experience, getting to see so many different types and styles and speeds of volleyball," Powell said. "I definitely, for sure, learned a lot."
It was Powell's fifth selection for a Team USA squad. 
The diverse styles played by other countries that Powell was exposed to in international competition gave her experience dealing with the wide range of situations she'll deal with in her second year as the UW's starting setter.
"[I] learned a lot in terms of defense, got to focus on that too," Powell said. "Even just breaking down the high speed of the game down slower — seeing different speeds helps with that."
She was third on Washington in digs per set with 2.31 last season, cementing herself as a key player of the gritty defensive style that became part of the Huskies' identity. As a setter, she ranked fifth in the Pac-12 with 10.71 assists per set, and her 1317 total assists are the most by a UW freshman since 2007.
Powell wasn't the only Dawg getting experience with a national team this summer. Seniors Kara Bajema and Avie Niece represented Team USA at the World University Games in Naples, Italy, where they were coached by a familiar face: UW's Keegan Cook.
"Most of them were stretched beyond their normal comfort zone," Cook said. "They came back with a better grasp of who they are and how to compete at the highest level."
It was Cook's third time serving as a coach for a women's national team. 
At the start of the summer, Powell and juniors Sam Drechsel and Lauren Sanders headed to Anaheim, Calif., to train with the Collegiate National Team. Powell and Sanders were two of three athletes on the 28-player roster with previous international experience.
CNT-Anaheim is a week long training session and scrimmage that coincides with men's and women's national team training blocks, and allows the college players selected to learn from experienced international athletes. 
"I think they saw how hard those athletes were working," Cook said. "They showed up to camp in good physical shape, ready for the training sessions." 
Reach Engagement Editor Hailey Robinson at sports@dailyuw.com. Twitter: @haileyarobin