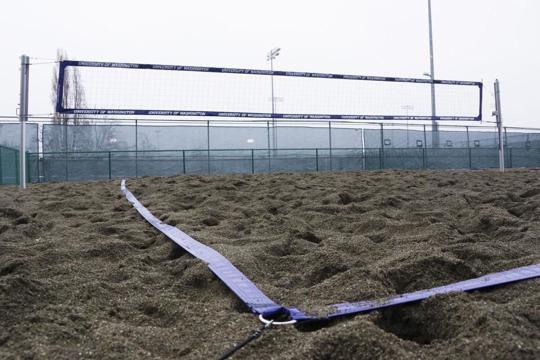 To round out its Hawaii trip, the Washington beach volleyball team played a final game against host No. 6 Hawai'i, falling 5-0 to the SandBows (24-7).
In the top spot, the senior team of Kristen Gengenbacher and Destiny Julye hung with Hawaii in the first set but still fell 21-18. In Set 2, the Huskies were in it until the end once again but couldn't finish, losing 21-16
Sophomore Kara Bajema and junior Shayne McPherson were at position No. 2 and stuck with Hawai'i for about half of the first set before the SandBows pulled away 21-16. In the second set it was tied at 7-7 when Hawai'i began to take a dominate lead which eventually sealed the game's fate, 21-11.
At No. 3, senior Cat McCoy and sophomore Avie Niece took hard losses in both sets, losing  21-3, 21-8.
The sophomore duo of Emma Calle and Samantha Drechsel at No. 4 lost 21-17, 21-11.
Sophomore Chloe Newton and freshman Callie Weber beat their opponents easily in the first set but took a hard loss in the second and couldn't pull out the win in the final frame losing 16-21, 21-11, 15-13.  
The Beach Dawgs have big matches coming up with the Pac-12 Tournament around the corner. The action will start April 25 in Los Angeles.
Reach reporter Madison MacPhee at sports@dailyuw.com . Twitter: @madison_macphee  
Like what you're reading? Support high-quality student journalism by donating here.