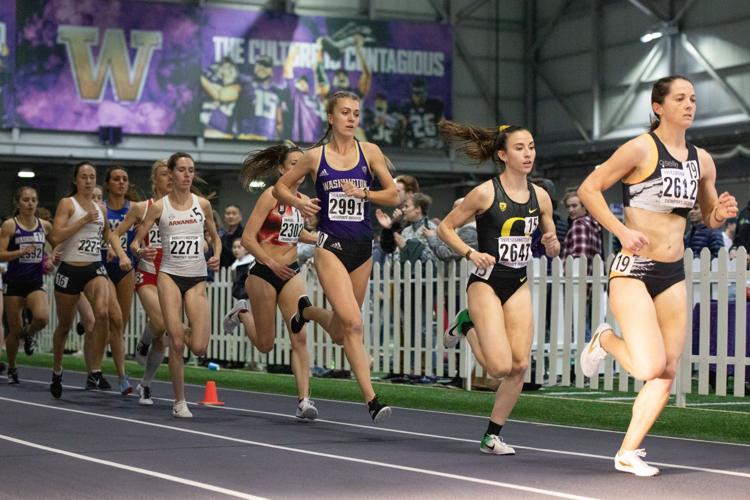 On the first day of the Husky Classic, senior Katie Rainsberger did something she hadn't done in two years, and set a PR in the 3,000 meters. The five time All-American ran an 8:56.24, smashing her previous best by almost five seconds and jumping to second all-time in Husky history.
"A long time coming," Rainsberger said. "I'm really excited about the effort and attitude, I'm training really well."
Rainsberger, who had been an All-American twice before in the 3,000 meters, was extremely happy with her performance. She believes that Friday's performance sets her up well for a strong showing at Nationals in a month.
"Head down, and the big one is in a month," Rainsberger said. "I did what I could on the day, and hopefully next time I have a little bit more."
Three of Rainsberger's teammates also had standout performances. Freshman Mel Smart and sophomore Shona McCulluch also had PRs running 9:06.52 and 9:31.95, respectively. Junior Allie Schadler ran a 9:14.39 to finish in the top-15.
"The group energy is super good," Rainsberger said. "Having Allie and Mel out their with me today was huge."
Rowe PRs in second straight meet
It did not take senior Jack Rowe as long as Rainsberger to beat his PR in the 3,000 meters after he set a new PR in back-to-back meets. Rowe shaved five seconds of the PR time he set two weeks ago finishing with a 7:51.00 which is good enough for third in school history.
"Things are really starting to click," head coach Andy Powell said. "He's starting to get confident and it's just one massive PR after the next."
Rowe's time on Friday now makes it likely that he will qualify for Nationals in the 3000 meters next month.
"He's got a shot at making it to nationals," Powell said. "He's going to be one of the last one's in or first one's out."
Whether he makes it to Nationals or not, Rowe's strong start to the indoor season sets him up very well for the outdoor season where he will be one of the key athletes for the Huskies in the 10,000 meters.
PRs in Albuquerque
The Huskies also sent multiple athletes down to New Mexico to compete in the Don Kirby Invitational at New Mexico on Thursday and Friday. The Huskies had two individual wins and set three new PRs in Albuquerque.
Junior Makenna Barton set a new personal best in the pole vault after jumping 13 feet, 5.75 inches on her second attempt. Barton's mark was also good enough to win the competition.
Throwers Elijah Mason and Connor Jost both PR'd in the weight throw for the second meet in a row. Mason had the best throw by a Husky since 2007 after the sophomore threw for 64 feet, 3 inches. Jost improved his personal best with a throw of 61 feet, 2.25 inches. 
Reach reporter Nick Lombroia at sports@dailyuw.com. Twitter: @lombroia
Like what you're reading? Support high-quality student journalism by donating here.