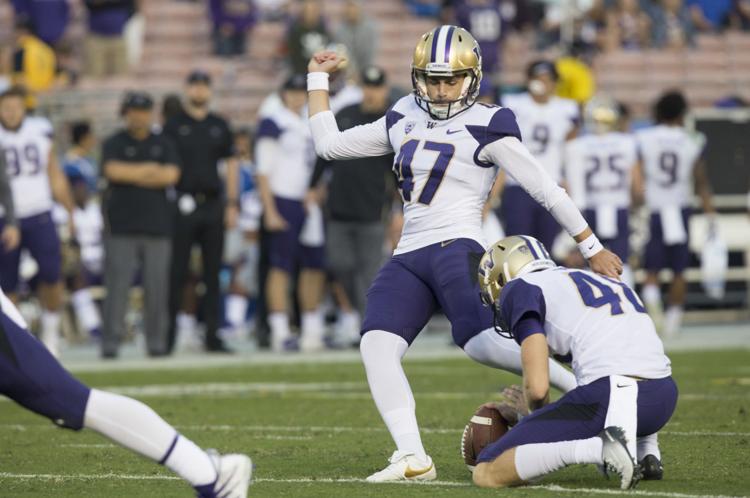 When the No. 9 Washington football team takes the field in Pasadena, Calif. for the 15th Rose Bowl in program history, the Huskies will go against the best team they've faced all season in No. 6 Ohio State. In the fourth piece of The Daily's preview series, we take a look at the UW's special teams. Check out the previous installments:
When Ohio State throws the football
When Washington throws the football
When Washington runs the football
When Ohio State runs the football
---
All around, the special teams might be the No. 9 Washington football team's most disappointing unit this season. Hampered by missed kicks, poor coverage, and an injured punter earlier this season, the Huskies haven't had a stellar season in the third phase of the game this season.
Let's start with the field goal unit, which has probably gotten the most headlines considering Washington's struggles last season. Named the starter before the season began, redshirt freshman walk-on Peyton Henry has remained the UW's primary kicker all year long.
Despite his miss at the end of regulation in the Oregon loss, and blocked kicks in two straight games against Washington State and Utah, Henry has been decent at best this season. He's made 15 of his 21 field goal attempts, with most of them coming from within 40 yards. His field goal percentage of 71.4 percent ranks sixth in the Pac-12.
However, there seems to be a cap on Henry's leg. The freshman has only attempted three field goals from 40 or more yards out, and has made only one of those. Several times in the Pac-12 Championship against Utah, head coach Chris Petersen elected to go for short-to-mid fourth-down attempts rather than send his placekicker for a 40-plus yard field goal.
However, Henry is perfect on kicks within 30 yards, and has only missed one PAT all season long.
The punting situation got off to a poor start when Joel Whitford sat out a few games early in the season with an undisclosed injury. This led to walk-on Race Porter getting time as Washington's punter, with a very low-trajectory kick. His kicks often didn't set his coverage up well, and led to some long returns. However, when Porter was able to get the ball on the ground, he was actually very effective.
His punting average of 42.3 is actually higher than Whitford's. However, when Whitford returned from injury he seized the starting role back. He hasn't allowed a punt to be returned for three straight games.
In the Pac-12 championship game, two of Whitford's three punts pinned Utah within its own 10-yard line.
On returns, the Huskies are middle of the road. Aaron Fuller ranks No. 42 in the country, averaging 6 yards per return, but he has shown good hands and also hasn't muffed a punt this season.
On kickoffs, the Huskies haven't had much of an opportunity to shine. Sean McGrew has gotten the most returns, with six, and only averages 18.3 yards per return. Salvon Ahmed leads the UW in average kickoff return yardage with 31, but he has only returned one kick this season.
Reach Assistant Sports Editor Alec Dietz at sports@dailyuw.com. Twitter: @AlecDietz