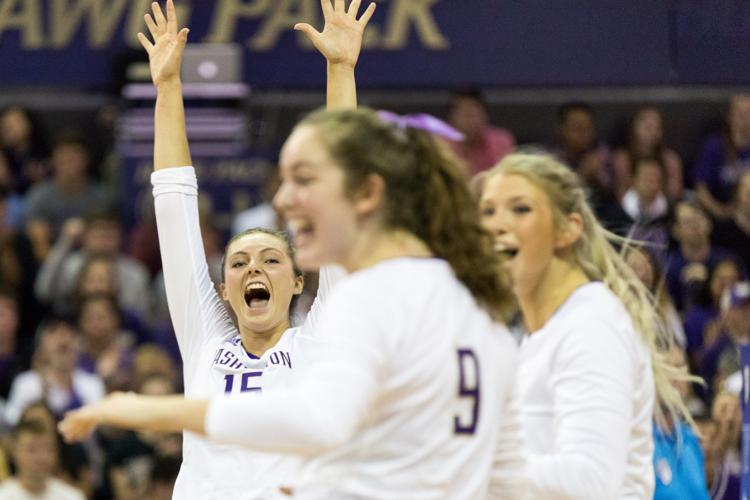 For the first time since 1990, the No. 10 Washington volleyball team took on a nonconference opponent in back-to-back matches.
After defeating No. 10 Wisconsin in Madison on Thursday the Huskies (9-1) turned around to win their home opener against the Badgers in straight sets (25-20, 25-20, 25-14( in front of 3,788 at Alaska Airlines Arena. Here are three takeaways from UW's second win over the Badgers in three nights: 
1. Huskies limit Badger blocks
Despite the Badgers' clear height advantage, the Huskies limited the defense from 6-foot-8-inch Dana Rettke. Wisconsin had been piling up blocks against opponents so far this year, but Saturday the Badgers only managed one block against a prolific UW attack. The Dawgs avoided the arms of the Badgers and found the floor of the court. Senior outside hitter Kara Bajema finished with 19 kills and a .515 hitting percentage while sophomore Claire Hoffman and junior Samantha Drechsel finished with 10 and eight kills, respectively.
2. Player of the game: Ella May Powell
Ella May Powell sure was excited to get her name on the stat sheet Saturday evening. The sophomore setter finished with four kills, none more entertaining than the two no-look kills she tapped over the net, throwing the Wisconsin rotation out of rhythm and hitting the floor. 
"That's all my passers," Powell said. "If the ball's not there, I can't do that. It's fun to get your name called every now and then." 
Along with the kills, Powell also had 33 assists on the night and helped the Huskies offense control the flow of the match.
3. Unforced Wisconsin errors
Failing to control the game, the Badgers did not do themselves any favors inside a hostile environment. Wisconsin committed 12 attacking errors and killed any chance it may have had at gaining any momentum. Wisconsin served from behind a majority of the match, and sided out at a 51% rate compared to 70% from the Dawgs.
Reach contributing writer Anthony Edwards at sports@dailyuw.com. Twitter: @edwardsanthonyb
Like what you're reading? Support high-quality student journalism by donating here.