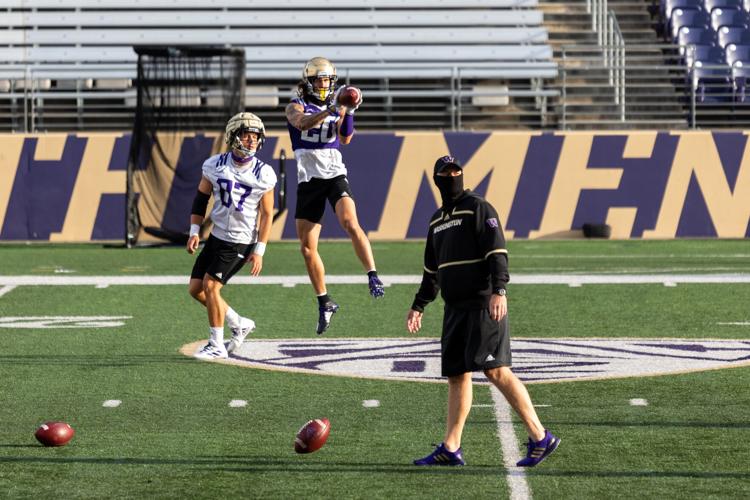 Before Washington takes the field in Berkeley to face California on Nov. 7, our writers are sitting down to reevaluate the state of the football team. Check out our other roundtables about the defensive line and who will make or break the UW's season. 
Today, writers Anthony Edwards, Nick Mendro, and Sydney Nash talk about who they think the most underrated player on the UW football team is. 
Anthony Edwards:
With question marks surrounding the quarterback position and a lack of experience at receiver, Washington's success on the offensive side of the football may boil down to how well the team can run the ball.
Sophomore Richard Newton surprised many with a 10 touchdown redshirt freshman year, but it is redshirt senior Sean McGrew who may be leading the way in 2020.
McGrew has steadily improved throughout his career, averaging 3.5 yards per attempt as a redshirt freshman, upping that to 6.2 last season. In fact, McGrew would have finished third in the conference in yards per attempt behind only Oregon's CJ Verdell (6.5) and Washington State's Max Borghi (6.4) if he had qualified.
Although he only scored one touchdown in 2019, McGrew had two 100-yard games, including a career high 110 yards against Arizona.
If McGrew continues his upward trajectory for a fourth consecutive year, the Huskies should be in good hands at the running back position this season.
Nick Mendro:
While he doesn't have the same kind of notoriety in the Huskies' secondary as some of his teammates, sophomore defensive back Asa Turner has been deemed noteworthy in this past week's press conferences. 
Both senior nickelback Elijah Molden and head coach Jimmy Lake mentioned Turner's presence in camp over the weekend, with Molden especially emphatic, suggesting his younger teammate may soon become a household name on Saturday mornings.
It's not as though it would come completely out of nowhere. Husky fans might recall Turner's interception against BYU in 2019 as a true freshman, a season in which the Carlsbad native ended up starting five games and playing in 12. 
Following the departure of Myles Bryant, Turner will almost assuredly play a critical part in defensive coordinator Pete Kwiatkowski's secondary. And while it wouldn't necessarily be prudent to go out and buy a purple-and-gold jersey with the number 20 on the back just yet, Turner might just have the opportunity and skillset to become an anchor of the UW defense in the next few years.
Sydney Nash:
Although there are some pinned down predictions on who will take the field Nov. 7, at this point in the pre-season there are no obvious picks for several key offensive positions. Many seemingly underrated players are competing for starting spots and the opportunity to break out as the season begins. 
In particular, I think sophomore wide receiver Puka Nacua has been overshadowed within the wideout conversation considering the momentum he had picked up prior to his injury last year. Playing in the first eight games of last season, Nacua caught seven receptions for 168 yards and made two touchdowns against Arizona and Oregon, proving himself useful to the Husky offense before breaking his foot mid-way through the season. 
Wide receivers coach Junior Adams noted in late May that the competition between the 13 wideouts will be pushing the group to perform, particularly with what seems to be a strong set of three incoming freshmen. With several questions still remaining for Washington's receivers, it will be interesting to see if Nacua will take the field early this season and pick up where he left off. 
Reach The Daily Sports Staff at sports@dailyuw.com. Twitter: @UWDailySports
Like what you're reading? Support high quality student journalism by donating here.