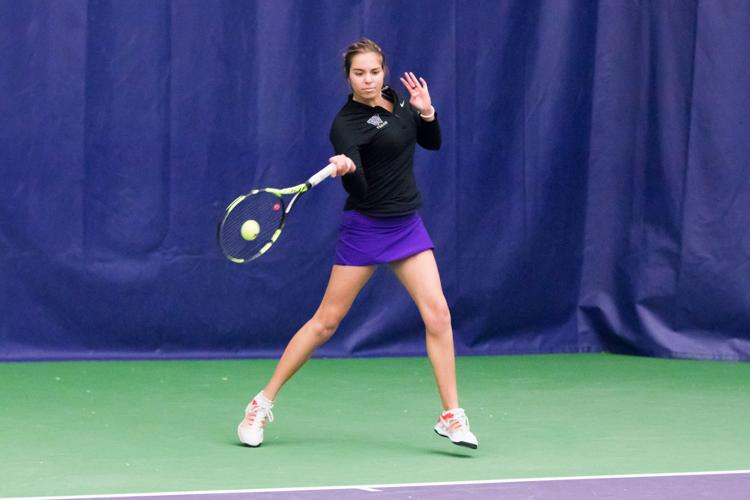 The No. 13 Washington women's tennis team defeated No. 50 Arizona State 4-1 on Sunday, maintaining a perfect in conference play and improving its win streak to 10 games.
The Huskies (15-1, 5-0 Pac-12) stepped up and found a way to win against the Sun Devils, who put the pressure on the dawgs early after winning the doubles point. Down 1-0, the Huskies clawed back, winning several three setters and four singles matches to clinch the match.
"Every match we played with a lot of belief," head coach Robin Stephenson said to gohuskies.com. "We had a match point to win doubles and lost it. Afterward I wanted to see how they would respond and how resilient they could be. We know that we are capable of winning on every court in singles so we put that behind us quickly and went right out and got to work."
The Dawgs faced deficits and tough opponents, but were able to rally and execute in the big moments. In the four singles matches the Huskies won, there were two three-set matches, two more tiebreakers, and five sets decided by two games or less. 
One of the toughest efforts put out was by Sedona Gallagher, who went down early against ASU's Savannah Slaysman, falling 4-7 in a first-set tiebreaker. The Washington freshman was able to bounce back and play her best tennis of the night in the second and third sets, using her powerful groundstrokes to complete the 6-7, 7-5, 6-2 comeback victory.
"I had a rough first set, but I figured it out in the second set and tried to slow everything down and took control of the match," Gallagher said. 
Junior Natsuho Arakawa also had to battle against ASU's Sammi Hampton at No. 4 singles. After winning the first set 6-4, Arakawa had an opportunity to close out the second set after earning a match point. She dropped the match point, and eventually fell in the second set tiebreaker 2-7. Arakawa, supported by the crowd and her teammates, was able to bounce back n the third set to grab the 6-4, 6-7, 6-3 victory.
Vanessa Wong continued her strong sophomore campaign with a 6-3, 6-1 win over No. 87 ranked Lauryn John-Baptiste. Freshman Nika Zupancic grabbed the decisive fourth point for the Huskies, winning 6-1, 7-5 on Court 6.
The Huskies will have an excellent opportunity to improve and build on their historic season when they face No. 14 California on Friday, April 5, and No. 7 Stanford on Saturday, April 6.
Reach reporter Caden Conder at sports@dailyuw.com Twitter: @cadenmconder