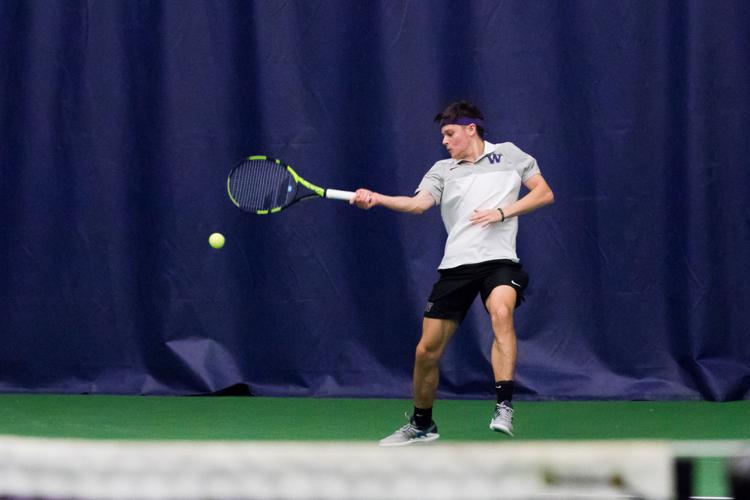 After suffering several tough losses over the weekend, the Washington men's tennis team was frustrated again Thursday, falling to No. 27 ranked San Diego 4-2. 
The Huskies (3-8) have now lost three in a row and are 1-6 in their past seven matches. Thursdays loss was especially tough, because the Huskies put themselves in a position to win, and were contending with the highly ranked Toreros all match.
The doubles point is crucial to any match, and the Huskies took the point through the great play of seniors Kawika Lam and Enzo Sommer, along with sophomore Jack Davis and senior Piers Foley. Lam and Sommer were victorious in their set 6-3, while Davis and Foley defeated San Diego's Joel Gamerov and August Holmgren.
"We were in a position to win the doubles point in our last couple matches and didn't get it, and it cost us," head coach Matt Anger said. "I felt that after winning the point tonight, we had a good chance to win with how our guys were playing in singles."
Ewen Lumsden played well and continued his impressive freshman campaign in singles, rolling over David Nordfelt 6-1, 6-1.
Senior Enzo Sommer put up another good fight in No. 1 singles, but lost to August Holmgren 3-6, 6-7. Losing tiebreakers set the Huskies behind, and allowed San Diego to clinch two crucial singles victories.
Freshman Ernesto Turegano also lost a first set tiebreak to Joel Gamerov, and ended up losing by a final score of 6-7, 3-6.
Piers Foley and Adam Torocsik also dropped singles matches to give San Diego four singles wins and a decisive victory. The Huskies came close to pulling off the upset, and put pressure on the Toreros all night after winning the doubles point
The Huskies begin Pac-12 play on Saturday, Mar. 9 against rival Oregon
Reach Reporter Caden Conder at sports@dailyuw.com Twitter: @cadenmconder