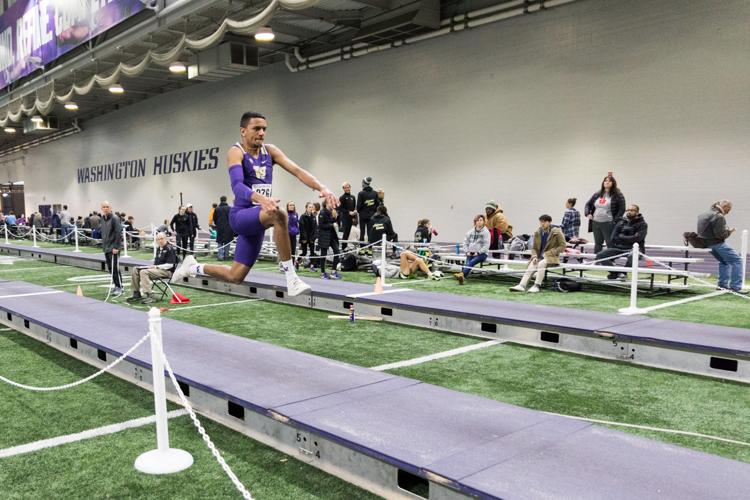 The triple jump is one of the hardest events in track and field. The "hop, step and a jump," may sound easy, but to get it right, like anything, it takes a ton of hard work and sacrifice.
The Washington track and field team has one triple jumper; Jaylen Taylor chose to take on the challenge when he went out for track in his sophomore year of high school.
Taylor's father and uncle both jumped when they were in high school and college, and they were pretty good at it too. His uncle jumped 50 feet, five inches, and his father, Richard, jumped upwards of 48 feet for his personal best.
Today, Taylor eclipsed his father with a huge personal best indoors of 49 feet, and one inch. And he wants more.
"I felt like I should have had a 50 today," Taylor said. "I was a foot behind the board, so if I just got that and landed it, it would have been an easy 50. I even scratched what would have been a 50 too."
Fifty feet represents a big milestone for a triple jumper. Especially at the UW. Only five Huskies in the history of the track and field program have eclipsed the 50-foot mark indoors. Today, he was close, but tomorrow, he hopes to be the sixth Husky to achieve the feat.
"It was disappointing [not hitting 50], but then again, it was mostly exciting," Taylor said. "I know I can do it now. I've seen it with my own eyes. There's a difference between thinking it and actually feeling it and I've actually felt it. It felt good."
Taylor's father, Richard, a jumps coach at River Ridge high school in Lacey who drives from Olympia to attend every local meet that he can, is just excited that he can see his son jump at the collegiate level, and potentially reach history for the Dawgs.  But he says he has to restrain himself a bit when he watches him do so.
"You're a dad, you're still a coach," Richard Taylor said. "I try to keep my mouth shut, you know, he has a coach, but there are some things I say. I try not to do too much, because he needs to hear it from coach [Toby] Stevenson. I try to do more supportive stuff, like setting goals and those kinds of things. It's hard not to."
To get that extra inch and break the 50 foot barrier, Taylor will rely on the mental aspect of the event, rather than his physical prowess.
"Getting in the right mindset," the younger Taylor said. "Going for it every jump, and don't back off because you're worried about scratching, or worried about something not going right with your phases. I just need to go for it every jump and work on stuff that we work on during practice, and it will all come to me."
To jumps coach Toby Stevenson, that is music to the first-year Washington assistant's ears.
"He's just now starting to buy in and figure it out," Stevenson said. "There's a lot of rhythm to triple jump, and he's finally understanding that you have to think your way through the jump and I'm really excited to see where he goes."
Taylor has set lofty goals for himself, as he hopes to eventually jump 52 feet by next year and wants to qualify for nationals this outdoor season. Both he and his coach know that if he wants to be there come spring, he'll need to really master his own mindset when approaching his jumps to set himself apart from the rest.
"It's pressure under fire," Stevenson said. "You do this all-out, chaotic thing, and in your mind you have to be cool as ice. That's the rhythm part, you have to stay slow in your mind but fast physically."
If Taylor can do these things, while Stevenson said he didn't like predicting outcomes, because you never know what might happen, he said that Taylor could put himself in position to have a very special year for the Huskies.
"If he stays on the trajectory he's on and we get him a little more physical, get his mentality even more fine tuned, he's going to get a good lick at it," Stevenson said.
Reach Assistant Sports Editor Alec Dietz at sports@dailyuw.com. Twitter: @AlecDietz
Like what you're reading? Support high-quality student journalism by donating here.