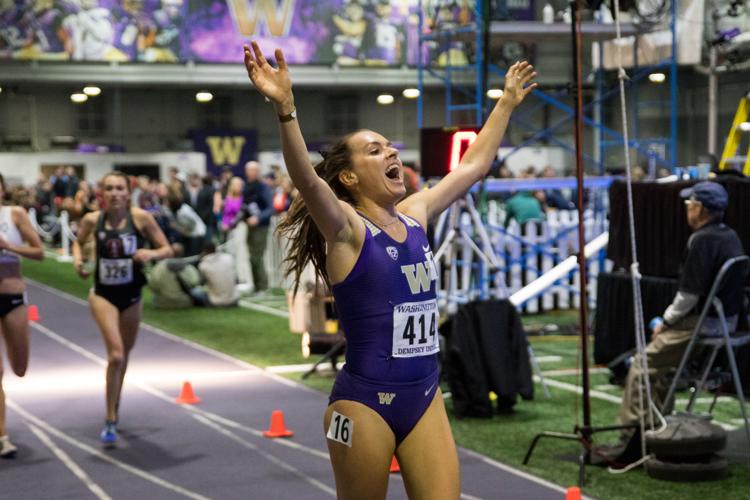 After a solid opening day, the Washington track and field team continued to gain momentum as four athletes were awarded with All-American honors, and one is on her way to finals for the NCAA Championships in Austin, Texas.
Senior Izzi Batt-Doyle continues to shine as she finished third in the 10,000-meter run finals in 33:17.81, and earned first team All-American honors. Batt-Doyle had a breakthrough year as she was the Pac-12 10k champion and holds the school record for the 10k with a 32:30.84. She also broke the school record for the 5000-meter run, and earned Second-Team All-American honors during the indoor season.
Junior Darhian Mills qualified for finals in the 400-meter hurdles semifinals by winning her heat with a time of 57.43. To this point, Mills has been awarded an Honorable Mention for the 4x400 meter relay, but has never been an All-American for an individual event. By winning in Thursday's race, Mills has already secured her All-America standing.   
In her final race, senior Emily Hamlin finished the 3000 meter steeplechase in 10:11.42, finishing 14th overall. Hamlin was able to improve by earning second team All-American honors instead of honorable mention like she did a year ago.
Before Hamlin started the steeplechase, senior Onyie Chibuogwu earned her first career All-America honor with a 204 feet, six inch throw in the hammer throw and placed 16th overall en route to Second Team All-America honors.
In her nationals debut, sophomore Allie Schadler finished 18th overall in the 1500-meter run with a 4:20.28. She capped a strong second season with an honorable mention and took eight seconds off her previous 1,500-meter personal record with a current time of 4:14.67 that she set at the NCAA West Preliminaries.
In her collegiate finale, two-time defending champion Olivia Gruver was knocked out of the NCAA Championship field at a height of 14 feet, 9.5 inches, finishing third overall after winning two national titles at Kentucky.
The NCAA Championships will resume tomorrow that will include the Heptathlon, discus and 1500 meter finals.
Reach reporter Daniel Li at sports@dailyuw.com. Twitter: @Daniel_Li7