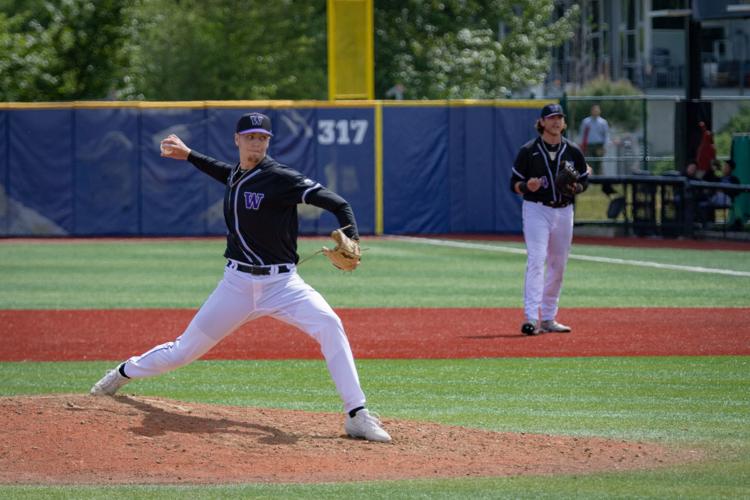 The Washington baseball team enters 2020 unranked and unheralded. With many new faces in the dugout, what can they do to make a name for themselves this year? Will they maintain the mediocrity from last season, or can they repeat their 2018 postseason success?
Here are five questions for fans before UW baseball takes the field on Valentine's Day.
Who will establish himself as the steady third baseman?
In the offseason, the UW recruited junior transfer Tommy Williams from Southern California, who won the league championship in the Orange Empire Conference with Orange Coast College in 2019.
Williams hit .358 as a sophomore last year to go along with 28 runs batted in and 10 stolen bases. Needless to say, he's proven his ability at the plate. However, will he be the de facto starter?
"He's in a fight for his life with Christian Dicochea, a freshman," head coach Lindsay Meggs said. "That's gonna be one that goes down to the wire in terms of this coming weekend."
Dicochea, a freshman from Redondo Beach, California, earned First Team All-Area recognition twice in high school, hitting .445 and .449 as a junior and senior, respectively.
"I can see them both playing a lot early and seeing which one separates himself from the other," Meggs said.
Who's starting on Sundays?
With a Friday starter in David Rhodes and a Saturday starter in Stevie Emanuels all but decided, the question will be who takes over the Sunday starter designation? 
After Josh Burgmann's departure, Meggs needs someone to give him solid innings to close out the weekend. Sophomore David Rhodes, from White Rock, B.C. pitched solidly last year as a freshman, posting a 4.84 ERA in 14 starts.
Meanwhile, Meggs said left-handed junior Jack Decooman could be a starter this year. Decooman posted a 7.15 ERA in limited action in 2019, but will he be the guy to take Burgmann's place? Decooman, also from B.C., epitomizes a wild card. Right now, he looks like the most likely option, but he'll need to come on strong to insert himself as the Sunday guy.
Can Nierenberg hold down his role as closer?
Senior Leo Nierenberg's statistical resume could be better. As a freshman in 2017, he pitched 40.2 innings out of the bullpen, with a respectable 4.87 ERA and excellent potential. However, the next year, his ERA climbed to 6.75. Then, in 2019, it submitted to 6.84. Now, question marks surround the talented right-hander.
That fact, paired with the emergence of Everett Community College transfer Gabe Smith, whom Meggs mentioned as a potential alternative, has blanketed the ninth inning in a layer of fog.
"If Leo can hold down that role, that'll be good for everybody," Meggs said. "It allows everybody else to kind of assume the roles that are best for us. If Leo gets off the mark a little bit, we can always go to Gabe Smith."
Meggs also mentioned junior Davis Delorefice, a two-way transfer from Orange Coast College as an option, as well as the ever-versatile Emanuels if he's needed.
Which freshman will emerge as a presence in the batting order?
This Friday, the Huskies will trot out a fielding corps full of new faces. All in all, five hitters should receive significant shots at breakout years.
One player is freshman Dalton Chandler. The right-handed hitter from Eastlake High School will start at second while sophomore Noah Tsue heals up from injury. Chandler has impressed the Huskies leading up to this weekend, and with Tsue not 100%, he's been gift-wrapped a chance to pull away as an offensive producer.
Ninety feet away, Johnny Tincher, another talented freshman, is pushing junior Michael Petrie for playing time at catcher. To his left, freshman Dicochea has reached a stalemate in the competition for third base. Then, behind him in the outfield, the Washington coaching staff has been highly impressed by the likes of promising freshman Preston Viltz.
Another freshman to watch is Will Simpson from nearby Sammamish. In the offseason, he claimed a position as the uncontested starting first baseman.
"Will Simpson has kind of pulled away from the pack there," Meggs said. "He had a really good fall offensively, getting better defensively, so that's our guy."
Whether it's Simpson, Chandler, or any combination of the young Husky foundation, the UW needs a young player to step up if they're to succeed in the Pac-12.
Can they get back to Omaha?
This is really the only question that matters. All other concerns are simply precursors to the overall goal: the College World Series.
Junior Christian Jones is back in the outfield with leadoff speedster, junior Braiden Ward. Emanuels has embraced his role as a starter. The talent is there — but can they put it together? The players think so.
"Something we need to focus on is staying healthy," Petrie said. "If we can stay healthy, I know we're gonna do some damage."
The veteran guys are thrilled about the incoming group of freshmen.
"This group is a young group, and we have a lot of potential to surprise some people," Emanuels said. "I think that we're gonna do that. It wouldn't surprise me if we went and won the [Pac-12] this year."
Confidence is obviously great, especially as excitement builds towards the beginning of the year. Still, if they want a date with Nebraska this spring, the UW baseball team will have to answer these questions.
Reach reporter Nicholas Mendro at sports@dailyuw.com. Twitter: @m_mendro
Like what you're reading? Support high quality student journalism by donating here.