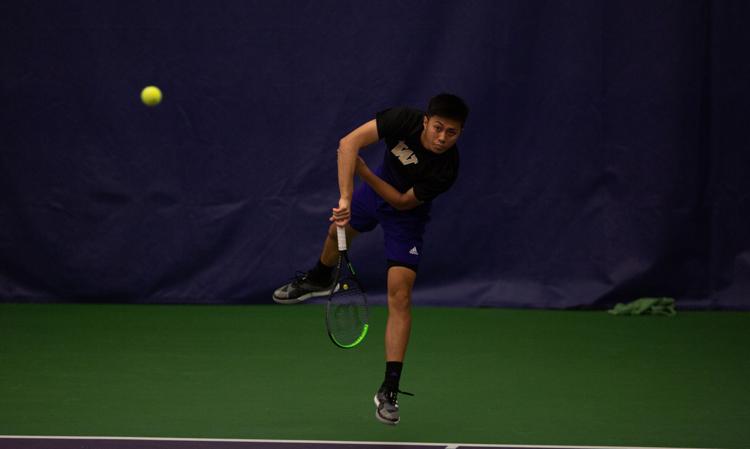 The Washington men's tennis team hosted Seattle U for a doubleheader and kicked off the season with a pair of wins Saturday afternoon. A combination of strong doubles play and singles matches, dominated by consistent net play led to a 7-0 sweep in both matches.
The Huskies (2-0) started off the opening contest of the afternoon with a doubles point that was decided quickly, with the duo of junior Alexis Alverez and sophomore Jack Pulliam winning 6-0.  Junior Jack Davis and sophomore Ewen Lumsden won their match, 6-1, to clinch the point for Washington. 
Among the many tough singles matchups against the Redhawks (0-2), freshman Brandon Wong, who played his first match as a Husky, secured the first singles point with a 6-1, 6-0 victory. 
"I've been looking forward to this game for a long time," Wong said. "I definitely felt nervous in the first couple of points but slowly found my rhythm and be a good supporting player on the team."
Wong's win was followed by wins from Lumsden, Pulliam, Davis, and sophomore Kasper Smith, with the fourth point to secure the match won by senior Liam Puttergill. 
The second matchup of the afternoon opened up with the Huskies continuing their strong play in the doubles courts. Freshman Brandon Lam played in his first game as a Husky as he played on the No. 2 pairing with Alverez, helping Washington secure the doubles point through a 6-3 win.
UW dominated the singles courts with Davis, Wong, and Lumsden all continuing the momentum from their earlier matchups and each quickly winning two sets to give Washington the 4-0 lead. The lead was further extended by the 6-3, 6-4 victory by Pulliam and 6-2, 6-3 win by Lam. A hard fought battle by Alvarez led the Huskies to finish off the back-to-back sweep against SU with a 7-6, 6-1 win. 
"All the hard work we've put in, especially the freshman, really showed in the results today," head coach Matt Anger said. "Moving forward we want to continue the effort and prepare well for the rest of our matches this season."
The Huskies continue play on Friday with a matchup against Michigan at 5 p.m. 
Reach reporter Deepika Kamineni at sports@uwdaily.com. Twitter: @deepikamineni