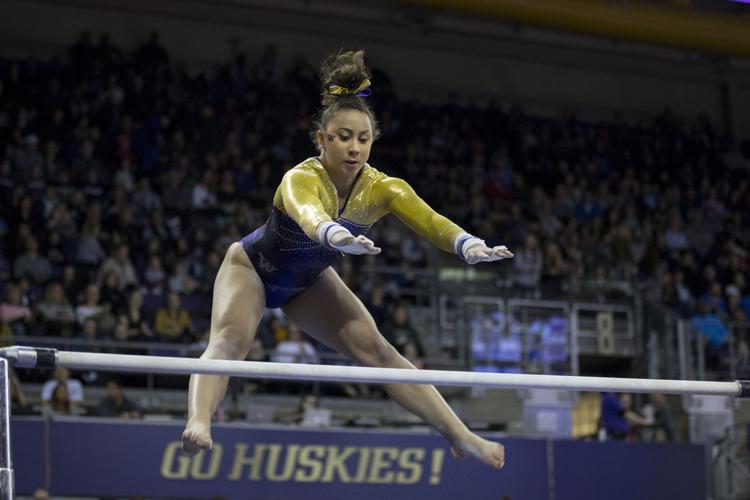 The No. 18 Washington gymnastics team has reached the midpoint of its season, and the Huskies aren't quite where they hoped to be.
"It's been a bit of a slow start," head coach Elise Ray-Statz said. "It hasn't been bad, it's just been a little slow."
The Huskies are firmly in the 15-20 range of the top 25. They're still in the top-25 percent of college gymnastics teams in the country, but not at the same spot they were in at this point in the season last year, when they made the national championship.
To make it for the third year, there needs to be a turning point for the Huskies, and, according to the team, it needs to be soon. Average scores for the top-10 teams in the country are significantly higher than what Washington is scoring –– the UW's average this season is 195.958, and the top eight teams all have averages in the 197 range.
A lot of it is due to uncertainty with lineups, which have seen a lot of movement since the beginning of the season due to injury and a large freshman class.
"We're still kind of toying around with positioning," Ray-Statz said. "Who's in, who's out? By this point that really should be happening."
With junior Michaela Nelson returning to the beam and bars lineups, all the movement in the lineups should soon come to an end soon. She was Washington's biggest missing piece, a solid member of the lineup since her freshman year, competing bars, beam, and floor.
"That's been a really great step for us, having her getting back in those lineups," senior Monica Riley said.
Nelson is still a possibility for Washington's floor lineup as well, where the final spot has been rotating between Riley and freshman Brenna Brooks. While the Ray-Statz would've preferred to already have lineups figured out, she thinks that will happen soon.
"I foresee that over the next couple of meets, really solidifying those for the rest of season, and that's just going to feel really good for everybody," she said.
That, Ray-Statz hopes, will create the shift the Huskies need for their season to be another where they contend for the championship.
"I think the next step is just to take that one step further and go even bigger and be tighter," Riley said. "We're trying to be tighter in the gym, in our warmup, in our conditioning, in our basics, so that will bleed into better execution in our routines so we can be a little crisper, and a little cleaner, and get those higher scores."
As the Huskies head to northern California to face Cal on Saturday at 2 p.m., they're looking for an upward trajectory. They haven't grown as much as they've wanted to from the start of the season, but now, at the midpoint, they're hoping to start on a path to faster improvement.
"The season's definitely going by pretty quick," Nelson said. "I think we've definitely made some really good progress in a lot of areas. But it's definitely that point in the season where we really want to put them all together."
Reach Social Media Editor Hailey Robinson at sports@dailyuw.com. Twitter: @haileyarobin
Like what you're reading? Support high-quality student journalism by donating here.