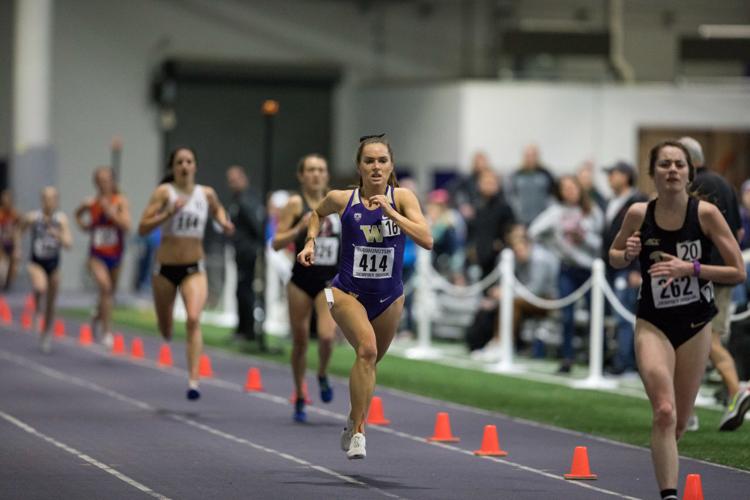 The Washington Track and Field team opened the outdoor season strong with many athletes setting personal bests.
Senior Olivia Gruver headlined the weekend for the Dawgs by setting a new NCAA record of 15 feet and 6.25 inches on the women's pole vault.
Senior Izzi Batt-Doyle broke another school record by running a 32:20.84 in the 10,000 meters. She dropped 75 seconds off her previous best of 33:35.19, and surpassed Megan Goethals' school record by almost 32 seconds.
During the indoor track season, Batt-Doyle broke the school record for the 5000-meter run with a 15:40.43, and has continued to build on her progress into the outdoor track season.
The women's distance squad continues to impress as senior Emily Hamlin shaved 10 seconds off her previous 5000-meter personal best by running a 16:05.31.
Junior sprinter Khalil Winfrey edged out his previous best in the 100'meter dash by five one-hundredths of a second, and taking third in the event with a time of 10.44.
Winfrey's race ties him for eighth in school history; he is the first male sprinter to crack the top-10 for the 100 meters since 2012. He also currently holds the 30th best time in the nation for the event.
Cass Elliott also came out strong in the 400-meter hurdles. The freshman put up a personal best of 51.13 seconds and placed second in the event. His previous personal best of 51.72 seconds was set in high school.
In just his first outdoor race for the Huskies, Elliott positioned himself into sixth-best in school history for the 400 hurdles. His time this weekend is good for fifth-best in the nation in just the early stages of the outdoor season.
Junior Chase Smith improved his personal best in the pole vault with a 17-feet, 7-inch leap. Last season, Smith tore his ACL and has been continuing to work back into shape. During the indoor season, he had shown progress by jumping 18 feet, 1.25 inches in the pole vault in the Last Chance College Elite Meet.
Other notes
- Sophomore Hannah Rusnak won the women's long jump with a personal best of 19 feet, 7.8 inches.
- Redshirt freshman Elijah Mason finished second in the discus with a 3.2 inch improvement.
- Senior Denham Patricelli placed second in javelin with a throw of 223 feet, 8.25 inches, a personal record of slightly over a foot.
Reach reporter Daniel Li at sports@dailyuw.com. Twitter: @Daniel_Li7