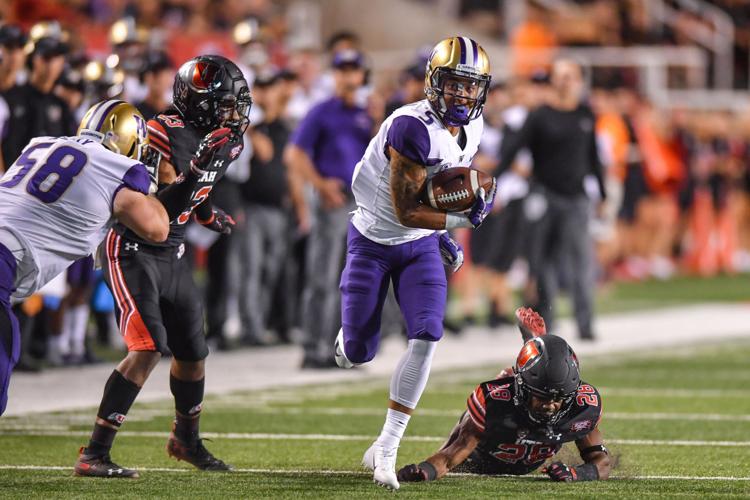 LOS ANGELES — It's bowl season, there's a national spotlight, and the No. 9 Washington football team is playing a team it hasn't played in over a decade.
Naturally, two words came up in interviews with Ohio State's defense more than any other: trick plays.
Last season, Penn State defensive coordinator Brent Pry went on the record saying that he had prepared for the UW offense by finding and studying film of every wrinkle Chris Petersen has run since his time at Boise State. Then, Petersen said he was happy Pry took the time to do that, happily calling it "a waste of time and energy."
And this time around, Ohio State defensive coordinator Greg Schiano could only smile.
"Well," he said. "We did [too]."
Schiano and the OSU staff — and probably every college football fan on the planet — definitely watched the famous film of Boise State's 2007 Fiesta Bowl win over Oklahoma, when the Broncos hook-and-laddered their way to overtime and Statue-of-Liberty'd their way to an upset.
But according to UW offensive coordinator Bush Hamdan, who was on the field at that game as a backup quarterback, those memorable sequences weren't the best representations of the Boise State offense — just the most recognizable.
"That's always funny," Hamdan said. "We were never like this gadget offense when we had success at Boise. It was always about running the football and creating off of that."
To be sure, the Huskies do like to dip into their bag of tricks. Washington's called three double-passes this year, including one by Aaron Fuller in the Apple Cup that ended up being the game's only passing touchdown.
"It's pretty fun," Fuller said. "It brings something fun into practice, and seeing it work in games is even better."
In the Pac-12 championship game, Petersen called a throwback play where Myles Gaskin was supposed to take a pitch and then throw the ball back to Jake Browning, but Utah snuffed the wrinkle out, and Gaskin kept it for an 11-yard gain. Later in the game, Washington ran a reverse out of the wildcat from Gaskin to Browning, but with nobody open, Browning checked down back to his tailback for a short gain.
If nothing else, it gave Schiano and the OSU staff a little more tape to take time watching.
"Maybe that's a good thing," Hamdan said. "Maybe the fact that we do that so much, coaches do spend a lot of time [on it]."
Once the game starts on New Year's Day, all of that extra preparation could pay off for the Buckeyes. Or all of the extra things to think about could hinder them.
"I don't think you can play a trick play, because it limits the speed at which you play," OSU linebacker Tuf Borland said. "I think it just comes down to doing your job and being real disciplined in how you play defense."
After all, the one takeaway Schiano had above all else from his preparation was not the gadgets themselves, but how Petersen utilizes them.
"That's not really the trick," Schiano said. "The trick is to know when to do them, and that's where [Petersen] is gifted. He has a great sense of timing."
Reach Sports Editor Josh Kirshenbaum at sports@dailyuw.com. Twitter: @J_Kirshenbaum
Like what you're reading? Support high-quality student journalism by donating here.