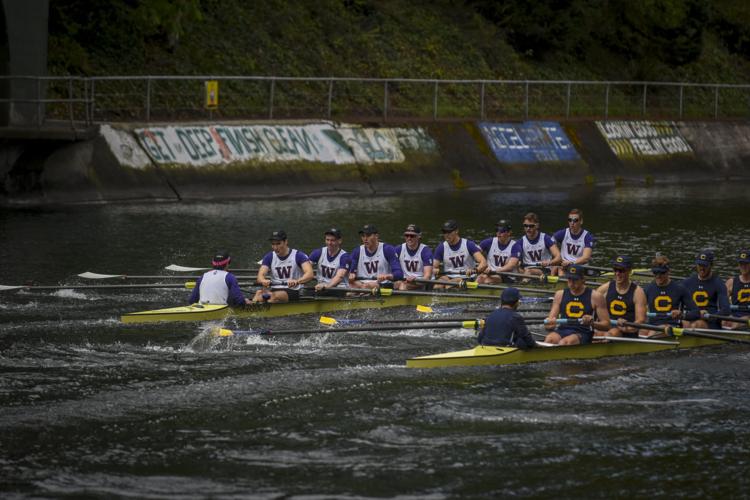 With the Windermere Cup quickly approaching on Saturday, the Washington men's and women's rowing programs are looking forward to racing in one of the world's most illustrious regattas.
After a week off from competition, the No. 2 UW men are well rested heading into their matchup against crews from Germany and Boston University. The German national team will be making its first Windermere Cup appearance ever, while the eighth-ranked Terriers are journeying to Seattle for the second time, their first coming 1993.
The UW men are eager to take on their challengers at such an incredible rowing venue.
"The Montlake Cut is a stadium-like feature so our fans get to get really close," UW coach Michael Callahan said. "It's almost like Cameron Indoor Stadium or Fenway [Park]."
For the Washington women, their Windermere Cup opponents include the German national team and UCLA. They're coming off last weekend's Cal Dual where they won all their races except the varsity eight.
Facing some of the best competition in back-to-back weekends has proved incredibly valuable for the UW women as they enter the back half of their racing schedule.
"To be able to have that test last week and then to have this test with the German national team," UW head coach Yasmin Farooq said. "I couldn't think of two better races to have as we're preparing for the Pac-12 championship."
The 33rd edition of the famous rowing event always includes a team outside of the United States. Ever since the inaugural Windermere Cup in 1987, the first Saturday of May has become a grand rowing spectacle that few regattas can match.
Reach reporter Evan Wong at sports@dailyuw.com. Twitter: @evan_wong29