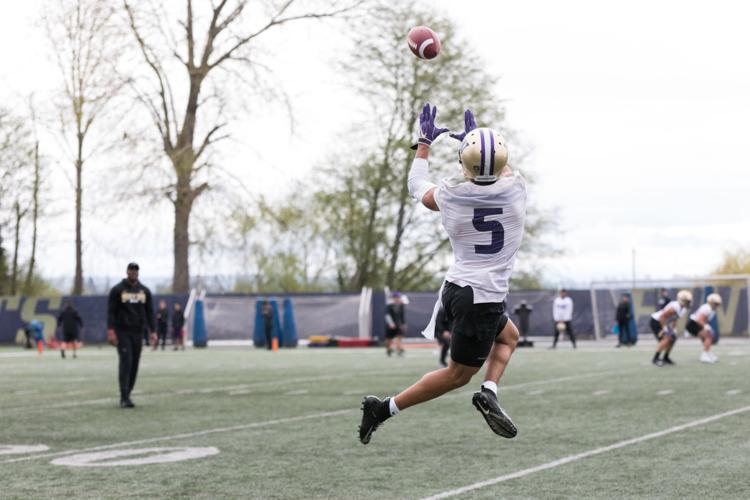 It seems like every year, the Washington defense has dealt with the common college football attrition of graduation, and the occasional but growing tide of athletes that depart early for the NFL Draft.
During the fifth day of spring practice, it became apparent that maybe that attrition is starting to affect the defense, at least before the freshman arrive.
With redshirt freshman safety Julius Irvin in just a jersey and shorts and staying out of contact drills, it was Myles Bryant and Brandon McKinney at the safety positions with the first-team defense.
Yes, the same Bryant who played five games at cornerback spot in 2017, and has been playing in the starting nickelback spot for most of his career with the Huskies.
"We've been doing this for multiple years, especially with guys in the back end," defensive coordinator Jimmy Lake said. "We've been devastated by injuries in the past, so we always have plan B, plan C, plan D ready to go. Guys like Myles [Bryant], like Elijah [Molden] that are very, very smart and can play different positions, we'll always sprinkle them in so they can learn those positions."
Additionally, while Bryant played at the safety, Molden played in the nickel and Isaiah Gilchrist — normally a safety — played on the outside. Behind Bryant and McKinney at safety were true freshman Cameron Williams and converted wide receiver Alex Cook.
"It happens every year," Molden said of the departures from last season. "It's just part of college football, people need to step up. But we all have a common goal and we're in a good spot."
Another presence that needs to be filled was the voice of JoJo McIntosh, whom Bryant credited for being that kind of vocal leader for the Washington defense a year ago.
"Now a lot of people are looking at me to do that, as well as leading by example," Bryant said. "Keith Taylor and Elijah Molden as well, we're all trying to take on that role and bring the young guys along."
While Bryant hasn't normally served as a vocal leader for the Huskies in seasons past, he says he is ready to step up to the challenge and learn on the job.
"It's something everybody has to work at," Bryant said. "You have to be put in that position, and it's how you respond to certain chances that are given. No one is a natural leader, everyone is a made-leader."
Other notes
- Myles Rice, Jacob Bandes, and Ty Jones were sidelined from spring practice, presumably from injury. Aaron Fuller also sat out of most drills, but did catch some punts early on in the practice period.
- Most of the Huskies were wearing helmets and pads, but freshman Miki Ah You and redshirt freshman Julius Irvin were wearing just their jerseys and shorts while participating in select drills.
- Peyton Henry was the only kicker to attempt any field goals during the scrimmaging period, going 2-for-2 from around 30 yards from the left and right hash.
- On Bryant's move to safety for this practice, defensive coordinator Jimmy Lake had high praise for the rising senior:
"His skillset is very similar to Budda Baker," Lake said. "Very instinctive, very quick, can blitz, tough enough to take on tight ends in the run-game, tackling running backs, but at the same time athletic enough to drop back in the deep post and play the deep middle. He's a valuable asset for us."
- It was a sack-fest for the Huskies during today's scrimmaging periods, with the defense securing four sacks by my count. Joe Tryon and Levi Onwuzurike stood out in particular during 11-on-11 periods.
Reach Sports Editor Alec Dietz at sports@dailyuw.com. Twitter: @AlecDietz