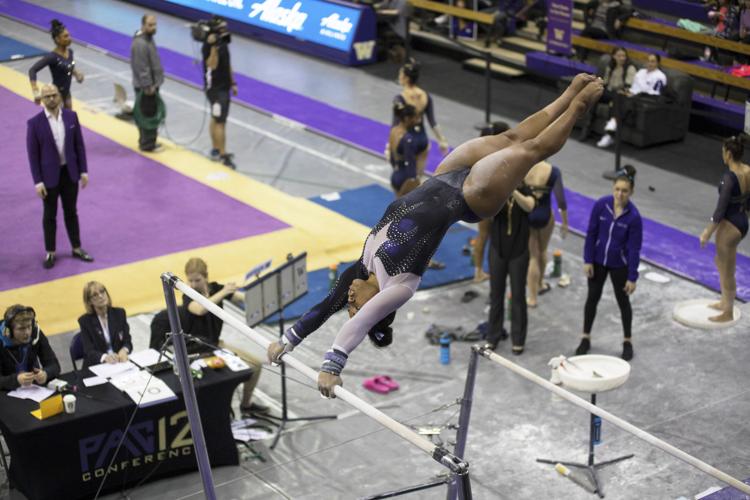 The No. 14 Washington gymnastics team will compete for spots on a podium for the second time this season at the Metroplex Challenge in Fort Worth, Texas, facing No. 2 LSU, No. 4 UCLA, and NC State on Jan. 27 at 5 p.m. A meet on podium against high-ranked competition is a chance for the Huskies to prepare for the National Championship. 
"Metroplex is an awesome meet," head coach Elise Ray-Statz said. "We've been there before, so a lot of the girls have been in the arena. We've already been on podium this year, so a lot of positives going into the weekend. We're ready for a nice big step in the right direction."
The UW scores have steadily improved with each meet, jumping an impressive six tenths of a point between their first and second weeks of competition. The goal this weekend is to keep improving.
"I'd like us to take another step forward," Ray-Statz said. "We're just looking to increase details from everybody on lineups, a little bit on every event."
At a point where Washington's gymnasts are putting up solid performances with solid scores, the key to scoring higher and pushing for a spot at the National Championship is in the details.
"This week in the gym, we're really working on fine tuning," senior Zoey Schaefer said. "We have our 197 goal, so we're working on details, more handstands, more sticks, getting rid of the balance checks on beam."
Washington is focusing on the details on every event, a season best team performance on floor showing that the Huskies are finally finding their stride and getting comfortable. Sophomore Maya Washington and senior Hailey Burleson each scored a 9.900 to share a team-leading score and a season high for both of them. 
"I'm trying to replicate the same thing with a little more details to the landings," Washington said. "For the most part, I'm just going to try to do what I did last weekend." 
Typically, heading out on the road leads to slightly lower scores for the Huskies, who perform better in their own arena, but they'll have to score higher on the road to prove themselves as a National Championship contender. 
Currently ranked No. 14, the UW has proved it's definitely capable of making it to the championship in its first three meets of the season, but consistent higher scores are the goal this season, and an even bigger jump in points is the goal this weekend. 
Last year, the Huskies repeatedly stated that a 197 score was the goal, but didn't achieve it until the sixth meet of the season. This weekend, they would need to improve by .675 from last meet to achieve that goal, and after a .600 jump last weekend, it's certainly a possibility.  
"We want to put ourselves in a position where at the end of season, we don't feel pressured to get a really big score because we already have," Ray-Statz said. "We want to do that a little bit earlier than we did last year."  
Reach Managing Editor Hailey Robinson at sports@dailyuw.com. Twitter: @haileyarobin