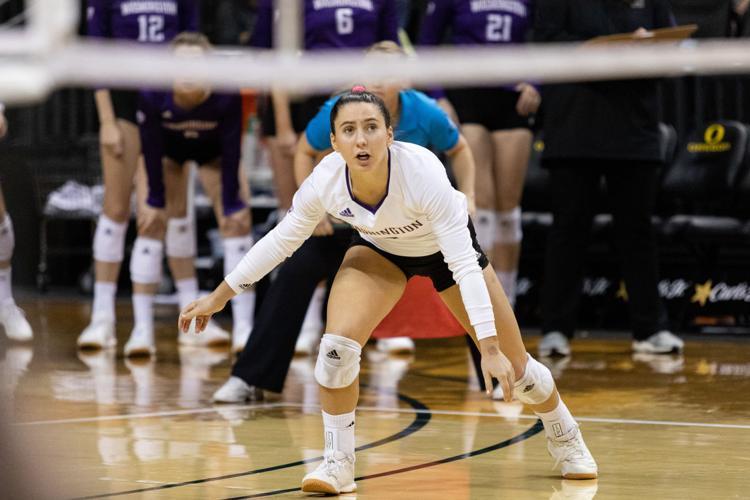 EUGENE, Ore. — After a sweep (25-19, 26-25, 25-20) of Oregon in Matthew Knight Arena, the No. 14 Washington volleyball team still isn't satisfied.
"Postgame we talked about how we should be proud of our win, proud that we were able to do it in three," senior outside hitter Kara Bajema said. "But we had a lot of things that we needed to clean up. It wasn't a very strong defensive game for us. We need to be better in communication and transition, and up at the net too."
The Huskies (18-5, 9-4 Pac-12) didn't block Oregon as much as they wanted to, and on the other side of the net, got blocked more than they wanted to. 
But despite that, a lot of good happened for Washington. Sophomore hitter Claire Hoffman returned from injury. Senior libero Shayne McPherson secured the No. 4 spot on the all time digs list. Junior Maria Bogomolova set a new career-high with four aces. 
Hoffman returns
Back in her hometown, Hoffman was subbed in for Washington in the third set. The Huskies are easing her back in after she missed six games with an injury. 
"We've been super cautious about everything," she said. "With all this time we've been trying to make sure I'm 100% good and I'm feeling really good after tonight."
Hoffman added three kills in the couple rotations she played in, including the kill that got the Huskies to match point. 
"We have a lot of confidence in her in any situation, and she had her chance today and came in and made an impact right away with some good passes," head coach Keegan Cook said. "Nice to see her out there again."
McPherson cements spot in the record books
McPherson started her senior season already No. 9 in the Washington record book in career digs. She's been steadily climbing all season, and passed Cassie Strickland's 1,544 career digs with 12 against the Ducks. 
McPherson is now at No. 4, and that's likely where she'll stay, with not enough games left to make up the deficit between her number of digs and Jenna Orlandini with around 400 more in third. 
She also added two aces for the Huskies. 
Bogomolova serves Huskies to victory
A close third set was broken apart by a six point run from Washington, served by Bogomolova. In that stretch were three straight aces, a run that matched Bogomolova's career high alone. 
Bogomolova is known for her tough serve, which was the highlight of a 25-4 set win over Arizona last season.
"We all have to deal with in practice; she kind of torments our team in practice," Cook said. "It's fun to see her do it to somebody else other than us. Everyone's behind her, and she's working on it all the time."
The Huskies road the lead from that run to the end of the match and secured the sweep. Bogomolova finished the match with four aces, a new career high. 
Reach Engagement Editor Hailey Robinson at sports@dailyuw.com. Twitter: @haileyarobin
Like what you're reading? Support high-quality student journalism by donating here.