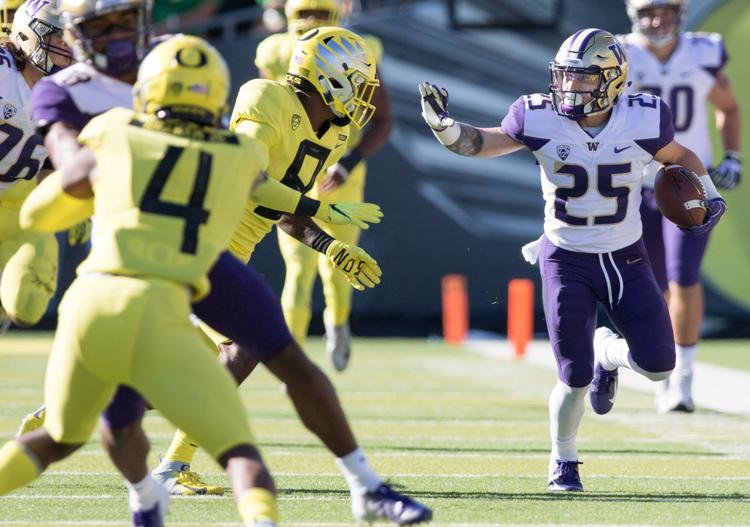 Before the Huskies kick off their season against Eastern Washington on Saturday, The Daily takes you through each game and what you should expect from each foe on the Dawgs' schedule. 
Aug. 31 vs. Eastern Washington
The UW's season opener against Eastern Washington will be the first time they showcase Jacob Eason in game action, and the Huskies will look to get the ground-game going with Salvon Ahmed and company with an experienced offensive line.
Washington's defense will have its handful with EWU quarterback Eric Barriere, and despite a couple close contests with Eastern recently, the Huskies should have no problem with this matchup. 
Sept. 7 vs. California
The Huskies face their first conference foe early this season in Cal, who beat the Huskies in Berkeley last year in an ugly 12-10 loss. Sophomore quarterback Chase Garbers returns for the Bears offense, and the defense is full of experience that features plenty of senior and junior starters.
Washington will face more resistance against Cal's stingy defense, which only allowed 21.3 points per game last year, tied for 24th best among FBS teams. While this game could be tough in the early season, it will be a good test for Eason and the offense in Week 2. 
Sept. 14 vs. Hawai'i
Watching Hawai'i's opener against Arizona should have the Husky defense licking its chops. The Rainbow Warriors turned the ball over six times in a sloppy win over the Wildcats, and even though the UW defense doesn't have a ton of experience, after good opening games against Eastern and Cal, they should be up to the challenge against a turnover-prone Hawai'i squad. 
The Hawai'i defense also showed that it's susceptible to giving up plenty of yards and points. Playing at home, this should be a game that the UW wins. 
Sept. 21 @ BYU 
Playing away from Husky Stadium proved to be a challenge for Washington last year. The UW took care of business against BYU at home last year, but playing BYU in Provo won't be an easy task.
Sophomore quarterback Zach Wilson is back at the helm for the Cougars after appearing in nine games last season. In its first away game of the 2019 campaign, it will be interesting to see how Washington's offense and defense look in a hostile environment after starting the season with three home games.
Sept. 28 vs. USC
Sophomore quarterback JT Daniels returns for the Trojans offense, along with a group of veteran wideouts in senior Michael Pittman Jr. and junior Tyler Vaughns. The last time the Trojans visited the Huskies in 2016, USC gave Washington its first loss that season and nearly spoiled the UW's chances of making the College Football Playoff.
USC should look better than they did in 2018 given the experience and new offensive coordinator Graham Harrell, but this is still a game that the Huskies should win at home.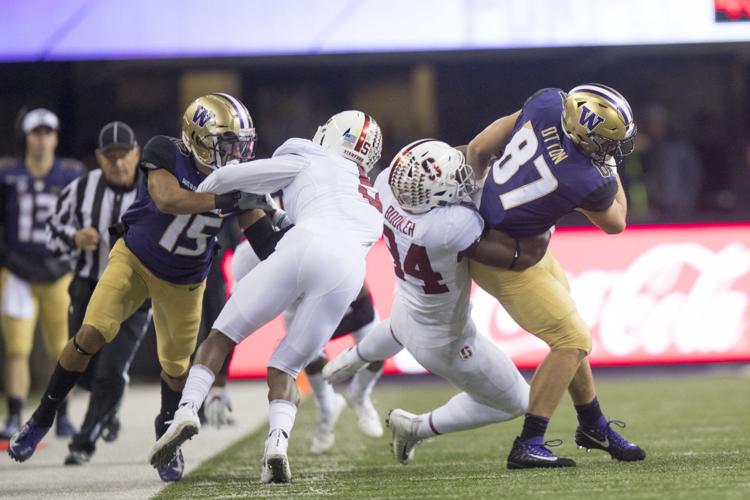 Oct. 5 @ Stanford
The last time the Huskies left the Farm with a victory was 2007. Yes, 12 years ago. Senior quarterback K.J. Costello returns for the Cardinal after throwing for 272.3 yards per game and 29 passing touchdowns last season.
Following running back Bryce Love's departure, fifth-year senior Cameron Scarlett should take over the rushing duties for the Cardinal. With David Shaw still leading the Stanford program, the Cardinals will push the Huskies to the limit.
Oct. 12 @ Arizona
Despite the fact that Arizona lost their season opener to Hawai'i, this team is dangerous given their explosive offense that's led by quarterback Khalil Tate and running back J.J. Taylor. Arizona's defense got gashed by the Hawai'i offense and allowed 595 yards.
However, the Huskies have had trouble in the state of Arizona in the past, and back-to-back road matchups are tough for any team, yet the Huskies should come in and leave Tucson with a win despite all that. 
Oct. 19 vs. Oregon
Following a victory over the Huskies last season, quarterback Justin Herbert announced he would return to the Ducks for his senior season. A top-10 recruiting class in 2019 is headlined by 247Sports composite No. 2 overall recruit Kayvon Thibodeaux, a highly touted defensive prospect. 
This game has all the makings of an all-time classic, and should come down to the wire as both teams vie for Pac-12 North superiority. 
Nov. 2 vs. Utah
Following its bye week, the UW should be well-rested in a rematch of the 2018 Pac-12 championship game. It will all but surely look like the last couple times the Huskies have played the Utes, in what has become one of the better Pac-12 matchups over the years.
Valuing each possession will be important for the Huskies as they look to fend off the pesky Utes defense. Just one turnover could change the game in either team's favor in this early November game. 
Nov. 8 @ Oregon State
Former UW offensive coordinator Jonathan Smith enters Year 2 as Oregon State's head coach, and the Beavers should show some improvement.
This has the potential to be a trap game for the Dawgs, given the Friday night kickoff following a tough Utah game. However, the Beavers still have a ways to go before they can compete with the Dawgs. 
Nov. 23 @ Colorado
The Huskies are fortunate to have byes in October and November. Depth and staying healthy will be paramount for the Huskies all season long, but especially during the latter part of their schedule. Colorado has a new head coach in Mel Tucker, who was defensive coordinator for Georgia from 2016-18. Senior quarterback Steven Montez will look to guide the Buffaloes offense as they try to bounce back after finishing last in the Pac-12 South last year.
Nov. 29 vs. Washington State
Gardner Minshew led the Cougars' offense last year, and it appears that senior quarterback Anthony Gordon will take that responsibility this year. Gordon has a firm grasp of the Air Raid offense in his fifth year with the Washington State program and will put up some gaudy numbers in the pass-happy offense. 
Washington has won six straight Apple Cups, and until WSU takes a game against Chris Petersen, you can't go against them. Defensive coordinator Jimmy Lake has a firm grasp of what the Cougars want to accomplish on offense, and he ensures that his defense is ready every year.
Reach reporter Evan Wong at sports@dailyuw.com. Twitter: @evan_wong29
Like what you're reading? Support high-quality student journalism bydonating here.