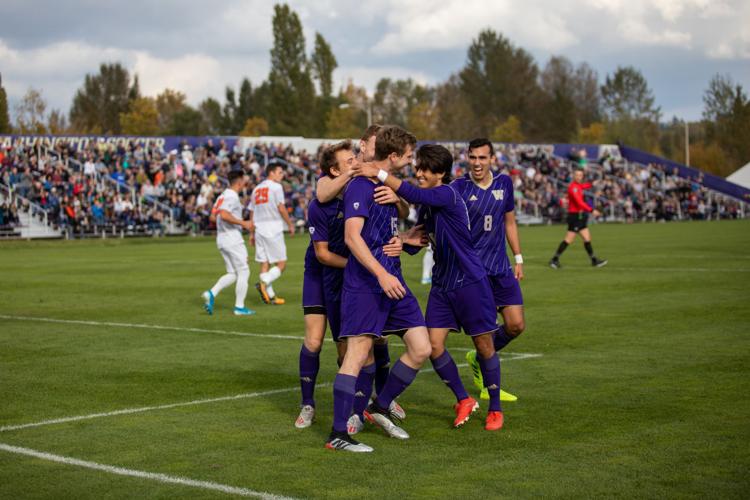 The No. 2 Washington men's soccer team extended their winning streak to seven with a 2-1 home victory against Oregon State Sunday afternoon. 
"It was definitely a game of two halves for us," head coach Jamie Clark said. "Even though we scored in the first half, I didn't think we were very good but we were definitely braver and more aggressive in the second half."
The Huskies (11-1, 5-0 Pac-12) opened the scoring with a 7th minute header goal from Ryan Degroot off a free kick from Ethan Bartlow. It was Degroot's first start of the season and he is the 11th UW player to score a goal this season.
"It was a set piece and Bart put an awesome ball in the box for us," Degroot said. "I was fortunate enough to get on the end of it and score."
Despite letting up the early goal, the Beavers (5-5-1, 2-2-1 Pac-12) had control of the ball for the majority of the first half and had 69% of the possession by halftime.
Washington doubled their lead in the 54th minute when Lucas Meek stole the ball from an Oregon State defender and passed it off to Jaret Townsend for the finish. This is Meek's first assist and Townsend's third goal of the season.
"Honestly, it was all Meek's goal," Townsend said. "He did all the hard work pressuring and getting the ball and I was just lucky enough to be there."
Oregon State increased the drama with a goal in the 86th minute when Adrian Crespo put the ball past Sam Fowler into the bottom corner. This is the first goal the UW has surrendered at home since its season opener against Denver.
"Oregon State was constantly pressuring us and they eventually got one past our back line," Clark said. "This is why we have to keep playing because there were plenty of opportunities for us to put the game away earlier on."
Nevertheless, Washington held on to defeat Oregon State 2-1 and kept their flawless conference record intact. The Huskies' next game is at home against Gonzaga on Wednesday, with kickoff at 7 p.m.
Reach reporter Le Bui at sports@dailyuw.com. Twitter: @LeBui18