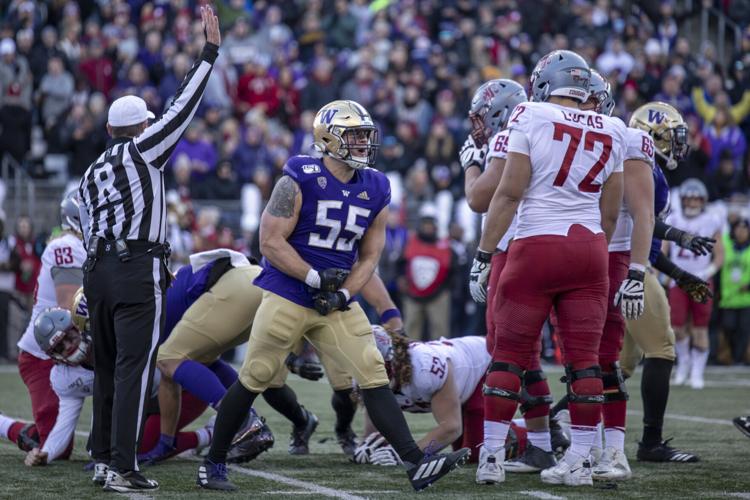 With the official return of the Pac-12 and before Washington takes the field in Berkeley to face California Nov. 7, our writers are sitting down to reevaluate the state of the team. Today, Anthony Edwards, Nick Mendro, Nathan Mathisen, and Sydney Nash discuss how the defensive line will handle the loss of Joe Tryon and Levi Onwuzurike after they declared for the NFL draft and opted out of the 2020 season.
Anthony Edwards:
Obviously, Levi Onwuzurike is a huge loss for the Huskies, with Pro Football Focus grading him as the most valuable defensive tackle returning to college football before he decided to opt out of the 2020 season. Although Washington will certainly miss Onwuzurike's run-stopping ability, it has more experience in the middle of its line, including sophomore defensive lineman Sam Taimani, who played in all but one game a season ago. On the edge, the Huskies have little experience, but quite a bit of talent.
Hoping to step up in Tryon's spot is freshman and former five-star recruit Sav'ell Smalls out of Kennedy Catholic High School. Smalls was the highest-graded recruit of the Chris Petersen era and has the chance to prove himself on Jimmy Lake's defense. Smalls brings a similar body type to the Huskies as Tryon, measuring 6-foot-4 and 244 pounds, only one inch shorter and 18 pounds less than Tryon measured as a freshman.
If Washington hopes to compete for a Pac-12 championship, the much-hyped Smalls will need to step up in a shortened season.
Nick Mendro:
With studs like Tryon and Onwuzurike defecting to the NFL, look for redshirt-senior Ryan Bowman to continue producing with oft-overlooked reliability. Bowman has been making plays for Jimmy Lake's defense since he started earning reps his sophomore year. And although he won't necessarily haunt opposing offensive linemen's night terrors with a towering stature or punishing physicality like his former teammates, what Bowman lacks in size (the fifth-year is only 6-foot) he makes up for in quickness, hustle, and consistency.
His numbers — solid, if not gaudy — don't tell the whole story. Beyond 12 sacks over the past three years, to go alongside 125 total yards in tackles-for-loss, Bowman's impact often transcends the statsheet. Just watch his performance in the Apple Cup last year, where it seemed like Anthony Gordon practically wore him as a cape. With a bloodhound's nose for the backfield and a veteran's arsenal of spins, rips, and swims, Bowman's edge presence should offer a loaded UW secondary plenty of opportunities to create those game-changing turnovers — when he's not dropping opposing quarterbacks eight yards deep in the backfield.
If there's one thing the Huskies can expect from Bowman, it's dependability. Playing in 40 games in three years and racking up 96 tackles proves that. With Bowman as its sturdy, emotional anchor, the UW defensive line will still cause problems in 2020.
Nathan Mathisen: 
Replacing a star like Levi Onwuzurike is no easy task. However, Tuli Letuligasenoa has taken the necessary steps this offseason to do just that. In the offseason, the sophomore lost 7 pounds, dropping him in weight down to 311. His weight loss gives the Huskies flexibility to use him as both the nose tackle and a three technique, which was the position that Onwuzurike played most of last year. Letuligasenoa also has a unique combination of strength and agility, which helps him impact both the run game and pass rush.
Letuligasenoa comes into his sophomore season already having experience on the field — in 2019, he played in 12 of the 13 games. When he was put on the field for short yardage situations, he thrived. In each of the games against Stanford and Oregon, he had five tackles. He also had a sack against California and a total of two tackles for loss on the season. With Onwuzurike gone, Letuligasenoa will have a great opportunity to show why he was a four-star recruit in high school.
Sydney Nash:
With the recent loss of outside linebacker Joe Tryon to the 2021 NFL draft, Sav'ell Smalls will have a big chance to step up during his first year at Washington. At 6-foot-4, the former Kennedy Catholic linebacker has the size and speed to follow in Tryon's footsteps and hopefully prove to have similar playmaking ability to what he managed in his final season with the Huskies.
After ranking No. 10 as ESPN's overall prospect and No. 2 as ESPN's outside linebacker prospect, and receiving over 25 offers (including from LSU, Alabama, and Clemson), there is a lot of hype for the freshman to live up to. But the pressure doesn't seem to bother Smalls, who committed to the Huskies standing beside Sam Huard, his Kennedy Catholic teammate and 2021 UW quarterback commit, saying the two would "bring Montlake its first national championship since 1991". 
Hopefully Smalls can live up to this claim and continue his enthusiasm, as a strong first season and consistent leadership would certainly give the D-Line a much-needed advantage, both this year and beyond.
Reach the Daily Sports Staff at sports@dailyuw.com. Twitter: @UWDailySports
Like what you're reading? Support high-quality student journalism by donating here.