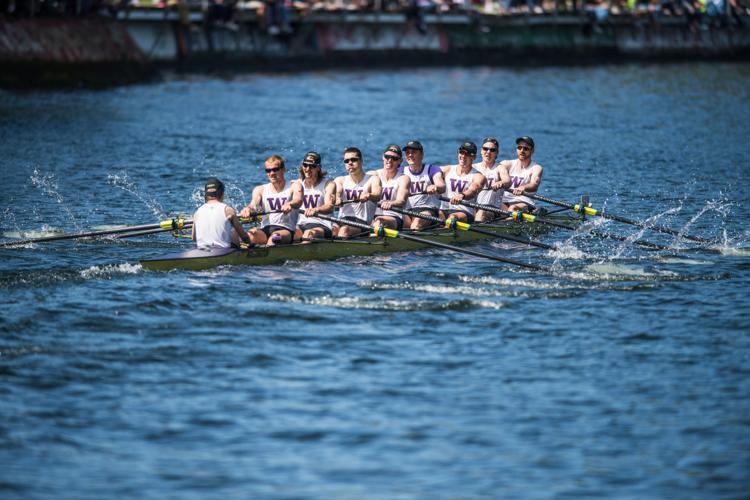 With impending weather issues at Mercer Lake forcing revisions to the championship schedule, the Washington men's rowing team won two out of three races en route to a team points title at the IRA National Championships.
Originally scheduled to start at 9:30 a.m. ET, the first varsity grand final was moved up to 7:30 a.m.
The V8+ was the only race that the Huskies lost at last year's IRAs, preventing them from winning the overall IRA national title. The result was the same this year, as the Huskies (6:04.337) came second to defending champion Yale (6:01.648). California won the bronze medal, finishing third with a time of 6:08.911.
Nonetheless, with three races remaining, the Huskies were still in a great position to capture the team points championship.
The 2V8+ featured the same top three finishers as the V8+, but this time with the Dawgs on top. Washington (6:23.404) finished first, posting a time two seconds faster than Cal (6:25.427). Yale was third with a time of 6:31.079.
The third varsity eight race would be the Huskies' last opportunity to stockpile points toward the Ten Eyck trophy, as the impending bad weather meant that the varsity 4+ would be cancelled.
The Dawgs (6:33.546)  won in convincing fashion, defeating second-place Harvard (6:37.214) by nearly four seconds. Cal was in the mix yet again, finishing third with a time of 6:42.550.
After three races, the points tally had Washington in first place with 211. Yale took second place with 199, narrowly edging out Cal's score of 196. It is Washington's 15th Ten Eyck Trophy in program history.
Reach contributing writer Jordan Duncan at sports@dailyuw.com. Twitter: @JordanDuncan43