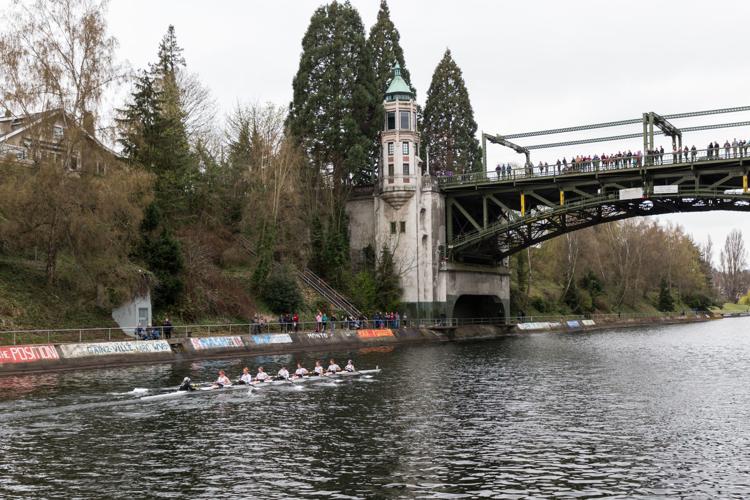 The Washington spring rowing season officially kicked off Saturday morning as UW hosted the Husky Open and Boeing Apple Cup Series races on the Montlake Cut.
The women's crew swept all five of their races against rival Washington State, highlighted by the varsity eight's (6:30.666) victory by more than 16 seconds over WSU (6:46.963).
Last year WSU hosted the Apple Cup Series and the women's crew had the Huskies over for dinner - a favor UW returned last week.
"This rivalry is so good with WSU, it's just a great group of girls and it's nice to come out here —  we had dinner with them last night — get to know everyone, and get to race against each other in the race course," said senior varsity eight rower Brooke Pierson. "It's just so empowering to race with amazing women."
The women's second varsity eight (6:38.358)also enjoyed a big win over WSU (7:04.263).
In the women's varsity four, UW's A and B boats (7:25.479 and 7:33.522, respectively) both finished well ahead of their cross-state rival (7:53.722).
The men's crew had two races against Santa Clara and Gonzaga in addition to their three races in the Husky Open.
The second varsity eight (5:55.172) won big against Santa Clara (6:26.569) and Gonzaga (6:35.902). The first varsity crew followed suit, finishing with a time of 5:47.835 to beat Santa Clara (6:11.244) and Gonzaga (6:15.007).
"Changing the mentality from training to preparation to now execution of races was actually the focus," men's head coach Michael Callahan said. "This week was about focusing mentally and getting into the race season and really executing today."
The UW men were set to face off against Santa Clara earlier this month at the Head of the Lake regatta in Las Vegas, but those races were cancelled due to strong winds.
"It was an early season race, so we weren't quite as prepared," Callahan said. "So now we're making those next steps. The next few weeks will be really key to progressing - hopefully not peaking now, we want to peak later on."
The UW men won all three of their races in the Husky Open, including a victory in the college men's varsity eight over WSU (6:28.001) and Puget Sound (6:44.971) by UW's third varsity boat (6:01.348).
The women participated in one Husky Open race (7:20.849), falling to Western Washington (7:08.935) and Seattle Pacific (7:13.079) in the college women's varsity eight.
The women will enjoy next weekend off but will head to Las Vegas for matchups with Texas and Michigan on April 14.
"I like to take a little rest on Saturday but by Sunday kind of walk it out, get into a little stretching, make sure to flush the lactic acid a little bit," Pierson said. "Just kind of cool mentally and get ready for next week."
Next Saturday the men host Oregon State and Stanford on the Montlake Cut. Races are scheduled to begin at 8:00 a.m.
Reach contributing writer Jordan Duncan at sports@dailyuw.com. Twitter: @JordanDuncan43.