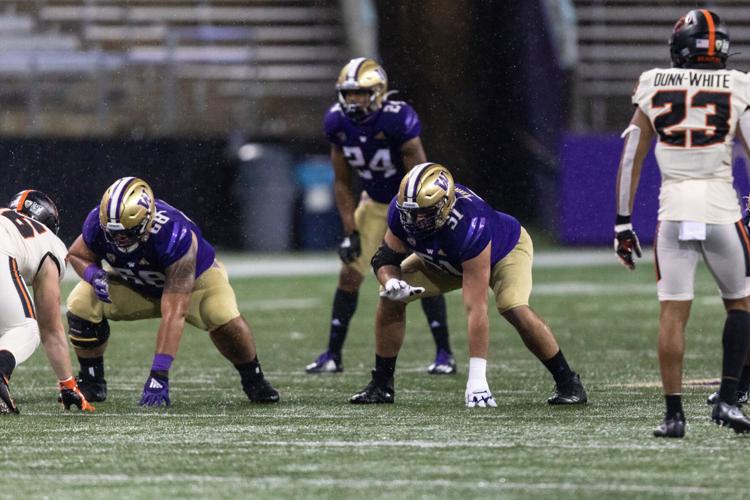 When the Washington football team's offense finally takes the field this Saturday against Oregon State, older generations of Husky fans may feel they've traveled through a time machine to the year 1990.
But that purple-and-gold jersey at left tackle with the last name "Kirkland" and the number 51 across its back isn't a mirage. The year is still 2020, and that's not Husky legend Dean Kirkland getting ready to do battle in the trenches — it's his son Jaxson, whose unparalleled work ethic has him poised to propel his team to a Pac-12 championship, just like his father did.
"I wouldn't say we've locked heads or anything in the weight room, but there's times when I'm trying to match him, or he'll tell me his numbers from back in the day," Jaxson Kirkland said. "I think he's a liar sometimes. But yeah, there's competition there. It's nothing but good old fun though."
One thing is clear to Jaxson Kirkland: If there is a competition — whether it's with his dad in the weight room or an opposing defense on fourth-and-goal — he's going to do everything in his power to win.
For example, when Kirkland was a sophomore in high school, he realized he needed to make a change academically. Ken Potter, head coach at Jesuit High School in Portland, Oregon, said the young offensive lineman simply decided one day to go out and get it done. 
Now, six years later, he's on the UW honor roll with a 3.6 GPA.
"He doesn't understand what 'complacent' is," Potter said. "What he understands is, 'I'm gonna get better today than I was yesterday.' When we'd run a play in practice, and he didn't block as well as I thought he should, he would want to run that play again because he'd want to get it down perfect."
This offseason, one of the most critical steps for Kirkland toward Pac-12 dominance was his own physique. In an unexpectedly long offseason where football was cancelled and then brought back, the big offensive lineman didn't waste time sulking — he went to work.
After talking with coaches about moving from right guard to left tackle following the conclusion of the 2019 season, Kirkland cut his weight from 323 pounds to 295, a nearly 30-pound weight loss.
"Looking at tape from last year and seeing my body, I figured the best thing was to lose a little weight," Kirkland said. "I feel so much quicker and faster out there. Moving to left tackle, too, I wanted to be a little lighter as well to be able to move laterally."
Like his academic achievements, Kirkland's weight loss is yet another testament to his extraordinary dedication to his team and his craft, an attitude that — alongside his physicality and football blood — has roots in family.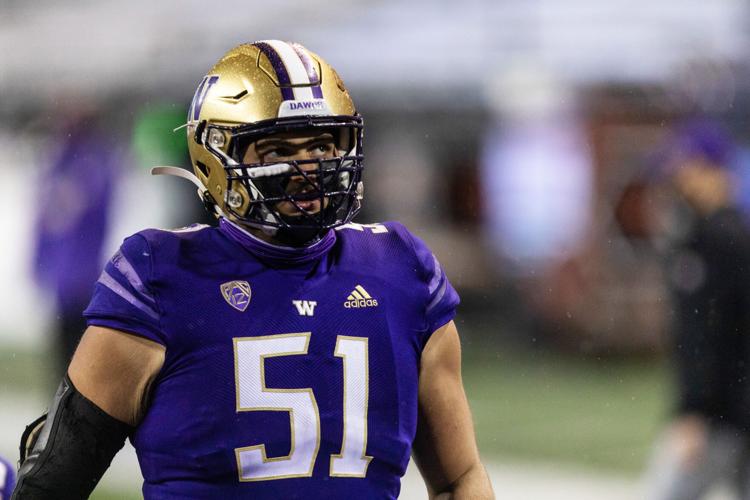 "I think it was a very loving family, but it was also, 'Dad did play at University of Washington. Dad did have a legacy there,'" Potter said. "Jaxson was the one who would ask, 'How do I do this better? How can I get better?' And his dad would say, 'It doesn't come from hoping something's gonna get done — it comes from working and getting it done.'"
Kirkland sure seems to have taken his father's mantra to heart. In high school, he was a three-star recruit, a designation that he and his high school coach felt was a heavy underestimation — and one that put him firmly outside the gaze of Washington recruiters until late in the process.
Two years later, by the start of his redshirt-freshman year, he'd become a starter. Now, he's the anchor of one of the most intimidating offensive lines in the Pac-12, in both physique and physicality. 
This season, he'll be protecting his quarterback's blind side as a nimble-footed left tackle.
"I smiled when I heard a couple of comments from people saying he might not have the feet to play left tackle," Potter said. "That's the greatest comment in the world you could make to Jaxson. Now he's gonna go out and work so hard on jump rope and fast feet."
Maybe the one thing in Jaxson Kirkland's life that no amount of jump rope drills or hard work can conquer is the COVID-19 virus. The pandemic poses one challenge that even the elder Kirkland never had to face, with canceled games and a perpetually delayed season looming large in the face of the Huskies.
The turbulence will test the younger Kirkland's leadership role like nothing his father encountered in 1990. After positive coronavirus cases in California last weekend forced yet another rescheduled season-opener, Jaxson Kirkland could've succumbed to the frustration of dashed hopes and mental exhaustion.
But that's not the Kirkland way.
"It was obviously a bummer — I mean, that was kind of a blow that day, understanding that," Jaxson Kirkland said. "But instead of bumming around the facility, I took it as an opportunity to get a couple extra days for Oregon State. It's huge being a leader, not showing guys emotionally being down but showing that you're positive, and you're ready to attack the situation."
Jaxson Kirkland's attitude hasn't gone unnoticed by his coaches. First-year head coach Jimmy Lake has commended his veteran left tackle's leadership and work ethic as a cornerstone of the offense's perseverance throughout the chaos of 2020.
UW offensive line coach Scott Huff, meanwhile, couldn't say enough about Jaxson Kirkland's leadership and dedication to his team — just like his father.
"He did a great job, not only when he was here, but also at his home, with his dad, Dean," Huff said. "He's just totally bought into trying to make himself the best player he can be. 
"The kid's just tough, man — I just don't know how to say it any other way."
This fall, the Huskies will need that toughness, as they combat not only a five-game slate of fierce competition across the West Coast but also a disruptive pandemic. Fortunately, Kirkland looks primed to take any challenge in stride, from fatherly competition to Pac-12 edge rushers.
"I think the world of Jaxson," Lake said. "He's been a tremendous leader for us, and I do think he should be one of the best offensive lineman in the Pac-12, if not the country."
Reach Nick Mendro at sports@dailyuw.com. Twitter: @m_mendro
Like what you're reading? Support high-quality student journalism by donating here.