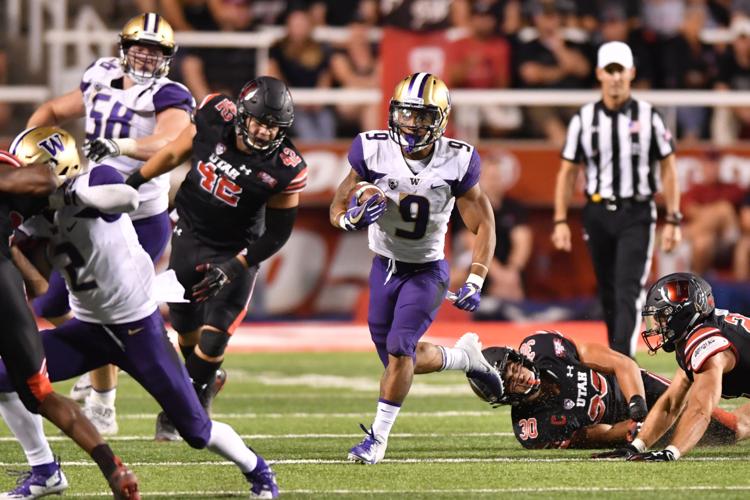 Coming into this season, it was expected that Myles Gaskin and the rest of the rest of the running backs would have a significant impact and be the strength of the Washington offense. That has been a mixed bag through the first three games of the season.
Unsurprisingly, the Huskies struggled a bit on the ground against Auburn, rushing for just 102 yards. That number would have been significantly lower if not for a couple of big plays by Gaskin.
Things came a bit easier in the home opener, but the Dawgs surely were expecting more than the 194 rushing yards they picked up against FCS opponent North Dakota. Gaskin had just 53 yards on 15 attempts as the nature of the game allowed Washington to spread the wealth around as both Salvon Ahmed and Kamari Pleasant approached 50 yards.
Early on against Utah, it looked like Gaskin was on his way to a career night after picking up 54 yards and a touchdown on the first drive of the game. He was unable to sustain that pace, but it was by far his best game of the season, putting up 143 yards on 30 carries. The Huskies liked what they saw from the senior running back and believe that he can keep that going for the rest for the season.
"If we're going to give him the ball enough and our offensive line keeps guys relatively covered he's going to make his plays," head coach Chris Petersen said at his weekly press conference. "We've just got to give him a chance to get things started, and he's going to find creases."
It might be tough to get Gaskin going like that again on Saturday as the ASU run defense has been a surprise this season, though an up-and-down one.
In their season opener, the Sun Devils gave up 2 yards on 34 attempts. No, that is not a typo. Granted it was against UTSA, but that type of performance is notable.
The following week, against a much better Michigan State team, they again had a stifling defense against the Spartans' ground attack, holding them to just 63 yards and 2.3 yards per attempt on their way to an upset victory.
The Sun Devils cooled off a bit against San Diego State, as the Aztecs gained over 300 yards on the ground and dominated time of possession playing from ahead for the majority of the second half with limited passing attempts as they were trying to drain the clock.
That game aside, the rest of the country is taking note of the significant improvement down in Tempe under a new head coach.
"On defense, much different," Petersen said. "That's that San Diego State, Rocky Long style. We've gone against that in the past, and it's a really good defense. They've got them playing hard over there."
Reach reporter Kyle Gehler at sports@dailyuw.com. Twitter: @KyleGehler