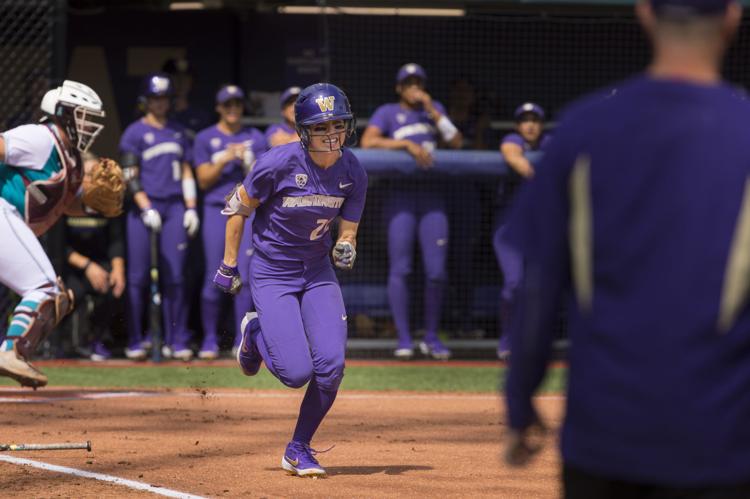 Compared to last weekend, the No. 3 Washington softball team's preparation for its upcoming super regional against No. 14 Kentucky is downright simple.
Going into the regional, the Huskies (48-7, 20-4 Pac-12) had four days to prepare for three different teams. This time around, Washington only has to get ready for the Wildcats (36-22, 14-10 SEC) in the same amount of time.
So after the tough week, capped by three wins over the weekend, head coach Heather Tarr gave her team the day off Monday, before getting into a much more normal structure the next day.
"We definitely took advantage of Monday to rest our minds and our bodies and get the academics underneath us," Tarr said at Thursday's news conference. "I think that's something that we get to work on and get to stay in the routine with, which is nice. Some of the other schools don't necessarily have to do that, or get to do that. In general, it's about us getting in our routine, preparing for the next weekend, just like it would be a general three-game series."
Four days later, the Dawgs are ready for the series. First pitch tonight at Husky Softball Stadium is scheduled for 6 p.m. and the game will air on ESPN2.
But as has become a theme with Tarr's teams, the focus hasn't at all been on the big stage.
"We've been doing all the work and just being confident in our preparation," junior shortstop Sis Bates said. "I think that's super important to being in super regionals. I don't think we play any higher, we just play our game and play Husky Softball."
Bates went 5-for-9 in the three regional games with six runs scored. Each of those runs were driven in by the woman behind her in the lineup, junior catcher Morganne Flores, who had five hits of her own, including two home runs.
The Huskies have their own name for the duo: A bloop and a blap.
"I get on and Morganne hits me in," Bates said. "It's a cool little thing we've got going."
When Washington faced Kentucky back in February in the Mary Nutter Collegiate Classic, Bates was hitting behind Flores in the No. 3 spot, not ahead of her. She went 2-for-3 with an RBI as the Huskies beat the Wildcats 4-2.
In the three months since, a lot has happened to both sides. Come Friday evening, the Huskies will be ready for a much different matchup, with a spot in the Women's College World Series on the line.
"Every team that we've team is different from the time you faced them pre-conference season," Tarr said. "Conference season grows you up a lot, whether you're an old team or a young team. I think specifically we're a different team in terms of our flow. Our lineup is more solid. The athletes can play behind each other more consistently, you know what to expect. So I think other teams are in that same way."
Reach Sports Editor Josh Kirshenbaum at sports@dailyuw.com. Twitter: @J_Kirshenbaum
Like what you're reading? Support high-quality student journalism by donating here.