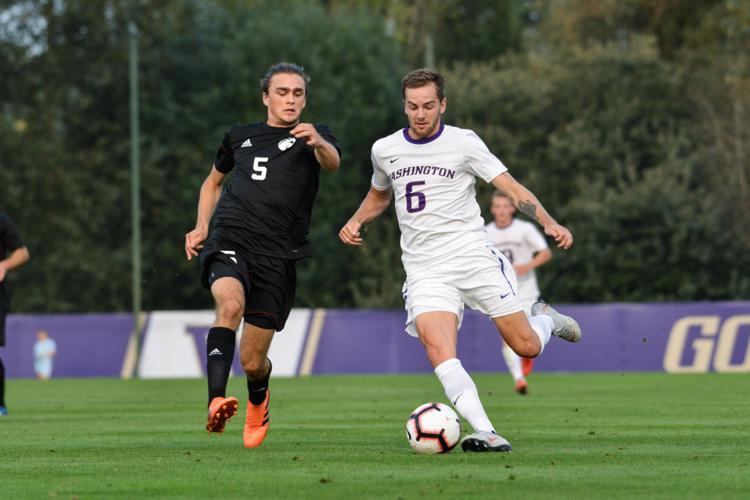 The No. 16 Washington men's soccer team is in the midst of a relaxing part of its schedule. After a grueling opening section of their schedule with three multi-game weeks and three games against ranked teams, the Huskies are currently enjoying a nine-day break from game action.
"It's great that we got a weekend off," head coach Jamie Clark said. "It's needed and I don't know if it's needed this week or down the line, but this just allows for the players to hopefully get their legs back under them. Also a little more teaching, which is great. We feel like we've been doing well, but you sort of get away from teaching when you just play games every week and it's just prep on the other team, so this week we're trying to get back to doing things the way we want to do them."
The team is currently enjoying its longest break of the season at nine days. To that end, they are making the most of their off-time.
"We're at Greenlake for some par-3 pitch and putt this afternoon, actually," Clark said. "If we have a single-game week it's fun to do other stuff [with the whole team]. We don't do tons and tons [together] but there's a little bit of team building there."
The bye week has allowed most of Washington's injured players to nurse themselves back to full strength. Seniors Quentin Pearson and Luke Hauswirth have almost fully recovered from knicks they sustained earlier in the season, while redshirt junior midfielder Ryan Degroot and redshirt sophomore defender Kasey French are questionable for the team's next game. French's injury in particular (a "weird bruise between his tibia and fibula") has been giving the coaching and training staffs headaches.
"He's still not training," Clark said. "I think we'll know soon whether he's good for the weekend, whether he's made positive strides or if we have to do something more."
He missed last Friday's game against Portland, a game in which his presence was sorely needed in trying to contain forward Benji Michel, who scored the lone goal in that contest.
Michel was a handful for Clark's back line, but he feels that his team did a good job of stifling him in the second half.
"There's certain guys that if you give them space, they might go sideways or might pass the ball to another guy, but he's a guy who will take that five yards and make you pay for it," Clark said. "We learned a little bit in the half and I think we got braver. Those are the challenges, great players want to face the best and see how they stack up. We've played against two of the best five forwards in the country now, and while we've done a good job on them both of them have scored in those games, so we clearly have to get a bit better still."
The Huskies won't be going up against a forward like that in the near future, but on Sunday they'll be facing a completely different type of challenge: a matchup with the team that eliminated them in last year's NCAA Tournament: Seattle University. That 3-2 overtime loss at the hands of their cross-town rival was a tough pill for many players to swallow, but Clark wants to make sure that his team uses that negative outcome last season as positive motivation for Sunday's game.
"I'll certainly make sure that guys remember, but I have no question that we'll come out with the right fight and the right energy," Clark said. "But we've gotta walk that line carefully where we're not overly exuberant to the point of making any silly mental mistakes. We've got to harness the emotion positively, and that's all I'll say."
The unranked Redhawks have won their last two games and have a 5-3 record heading into Montlake. In their last game, they defeated San Diego 4-0, with four different players scoring goals. Their leading goal scorer, redshirt junior forward Cody Gibson, has only three goals, but five players on the team are tied for second in scoring with two goals. In all, nine different players have found the back of the net this season, including midfielders Sergio Rivas and Declan McGlynn. Before the year, Rivas made TopDrawerSoccer's Preseason Best XI First Team, and McGlynn was named to the Freshman Team.  
Senior defender Nathan Aune, the WAC Defensive Player of the Year and a third-team All-American last season, holds down the back line. Aune was named to the MACC Hermann Trophy watch list during the preseason, a list that also features Portland's Michel.
Sunday's game will begin 5 p.m. on Pac-12 Networks.
Reach reporter Chris Angkico at sports@dailyuw.com. Twitter: @chrisangkico