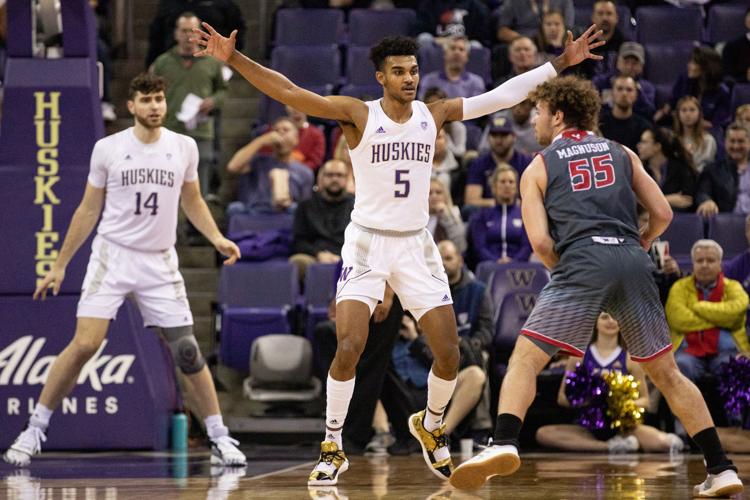 When asked what the hardest part of learning the point guard position has been, Jamal Bey said that sometimes he isn't sure what he's supposed to do after head coach Mike Hopkins calls a play on the fly. 
After coming off the bench consistently in relief of Quade Green or alongside him, Bey started his first career game running point in the 61-58 overtime loss to Cal. 
This is life for the Huskies (11-6, 1-3 Pac-12) now. With Green ruled academically ineligible as of last week, they will have to find production from a group of guys that have little-to-no experience as an NCAA point guard. 
"To be honest with you, I've moved forward," Hopkins said. "This is who we've got. This is who we are. This is how we have to win. Sometimes things like this happen. They're great learning experiences."
"We've just got to rally. We've got good players in the program. We should be able to win. Sometimes it's position by committee. It's a big loss but everybody's got to pick up and do a little bit more."
Without a proven scorer, facilitator, and offensive leader like Green, the Huskies will turn to Bey, Elijah Hardy, and true freshman Marcus Tsohonis to fill in the gap. 
And each of them brings a different experience level to the position. 
"[I've had] a few plays like pass to get a lob but not like this, where I have to actually tell people where to go and know all the plays," Bey said of whether he'd run an offense before at any level.
Behind Bey, who seems to be in line to receive most of Green's minutes, Hardy and Tsohonis were able to get their feet wet this past week with limited success. Hardy played 31 minutes and made his first career start against Stanford, a game in which Hopkins lauded his defensive effort, but the Oakland native shot just 1-of-7 from the field. 
Tsohonis didn't play against Stanford, but logged six minutes off the bench against Cal and scored three points. All three will set to feature for the UW now as it tries to find any kind of offensive rhythm. 
"It's fun, both of them are always hungry," Bey said. "I feel like they are both great players and they are just ready when coach calls their number or whenever they go in, they are ready to knock in shots, make a play, or just help us win."
Despite the excitement of an extended opportunity and more minutes for the trio though, the group has understandably gone through early growing pains as well.
"It's been a little bit of a struggle," Bey said. "Just being in that role and trying to figure out what to say, what not to say, how to talk to different people, but I think I'm getting better every day."
The sophomore says that he's taken advice from Green himself, who is still allowed to practice with the team despite his ineligibility, and that he's been trying to get the players around him more involved early in the offense. 
Working and growing alongside Hardy and Tsohonis, Bey will most likely be the one tasked with running the show for the Huskies for the foreseeable future. And though they have a renewed focus on learning the offense through a point guard's eyes, they also don't have a lot of time to figure it out. 
"It's kind of like we have a whole new team without Quade," Bey said. "We gotta be better. Different people have different roles. We just have to step up if we want to win."
Reach Sports Editor Alec Dietz at sports@dailyuw.com. Twitter: @AlecDietz
Like what you're reading? Support high-quality student journalism by donating here.