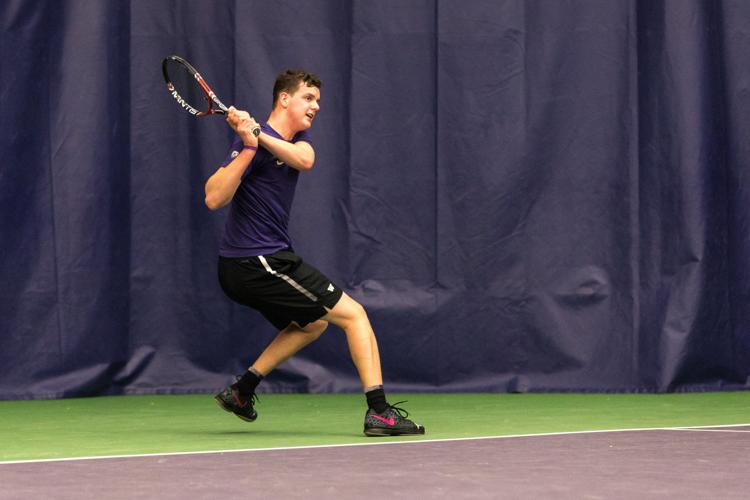 The Washington men's tennis team went down to Salt Lake City to defeat Utah 4-2.
The Huskies (12-10, 2-4 Pac-12) battled both the altitude and the tough Utes (19-5, 2-3 Pac-12) to hand them their first home loss on the season.
The afternoon started on a rough note for the Dawgs, as they dropped the doubles point with a 6-2 loss by juniors Kawika Lam and Enzo Sommer. That was quickly followed by a 6-4 defeat of the new team of senior Mitch Stewart and freshman Jack Davis. The other new team of senior Jake Douglas and sophomore Amit Batta were tied 5-5 when the match was called.
The Huskies turned things around quickly in singles. Davis started out the fun with a 6-3, 6-4 victory to even up the score.
Sommer made it 2-1 with a tight 7-5, 7-5 victory before Batta dropped his match 6-4, 6-4 to make it 2-2 on the afternoon.
All three of the remaining matches went to three sets.
No. 73 Stewart played a very up and down match. He battled through a tough 6-4 first set win before losing a rough 1-6 set. He turned the switch back on in the final set to take the match and give Washington a 3-2 edge.
On Court 6, Foley was making his first appearance back since a foot injury kept him out of action last week at home against the two Arizona schools. Foley returning to the lineup gave the Huskies an added boost.
He did not miss a beat as he won 6-4 in the first set. He dropped the second set 3-6 before zeroing in and winning 6-2 to give Washington the huge win over Utah.
The Huskies will wrap up the regular season next weekend as they make one final push for the NCAA tournament down in California to take on California and Stanford starting on Friday evening.
Reach reporter Kyle Gehler at sports@dailyuw.com. Twitter: @KyleGehler