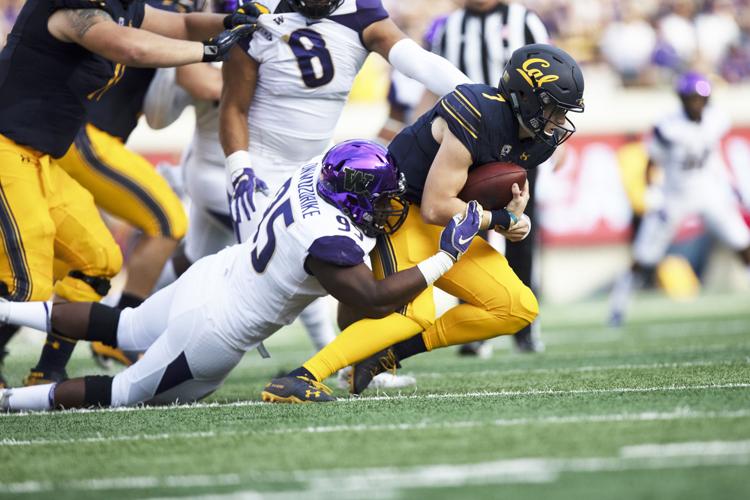 In perhaps one of the most tumultuous seasons in recent memory, and given its expectations, the now unranked Washington football team will face off against an unranked Stanford squad this Saturday.
Everyone saw that coming, right?
Still, both teams are at play for a Pac-12 championship, and if the Huskies (6-3, 4-2 Pac-12) want a shot at the Rose Bowl, they have to beat the Cardinal (5-3, 3-2 Pac-12) this weekend.
But on the heels of a disappointing loss at Cal last week, where the offense only mustered up 10 points and their worst output of the season, this week could be the tipping point of the year.
"It's more just bringing that energy that we usually play with, that edge," junior wideout Aaron Fuller said. "I think we came out strong the first drive, but we lost our edge toward the end, which is a testament to how you practice. We didn't have too good of practice last week, this week it's focusing on coming back to the details and coming back to that edge."
A lot of fans and media have pointed the finger at senior quarterback Jake Browning, who was pulled in favor of redshirt freshman Jake Haener in the third quarter against the Bears. But head coach Chris Petersen has emphasized that the offensive struggles lie more with the team than any individual player, and Fuller agrees.
"The teams have been shifting their coverage to limit the receiving game a little bit," Fuller said. "But you know, you also have to get open. I haven't done too great of a job doing that, and it's a full team deal. Blocking, getting the run game open to set up the passing game, things like that to spring those big plays."
On the offensive line, coach Scott Huff says that the Huskies need to throw away their emotions from the game against Cal, and focus on a tough Stanford defensive front.
"The standard is the standard, whether you win or you lose," Huff said. "Obviously bummed out about losing the game. Crushed. Devastated. But you have to be a big boy and say, 'Okay, what was good, what was bad?' I know we lost, but there's actually quite a few positives out of there. There's always things to get better at."
Has practice been better this week?
"Without a doubt," Fuller said.
As for Browning, who wasn't available to the media this week, the team says that nothing was really said, or needed to be done.
"He's good, he's been playing here for a long time, he's played in a lot of big games," junior offensive lineman Nick Harris said. "He understands what needs to happen, he's a great leader, he's a great player. He's no different, he's the same Jake."
You could see a visibly frustrated Browning after the game last Saturday. Petersen himself said that Browning was "still mad" after the game had concluded, and even after he had re-entered the game. But don't expect any drop off from the senior, according to his teammates.
"He's a mentally tough dude," Fuller said. "He's taken so many hits, whether physically or mentally over the years, and he's the starting quarterback, everyone takes shots at him. Whether on social media, or the real media or things like that. He overcomes a lot, and he's going to come back stronger than ever."
Reach Assistant Sports Editor Alec Dietz at sports@dailyuw.com. Twitter: @AlecDietz