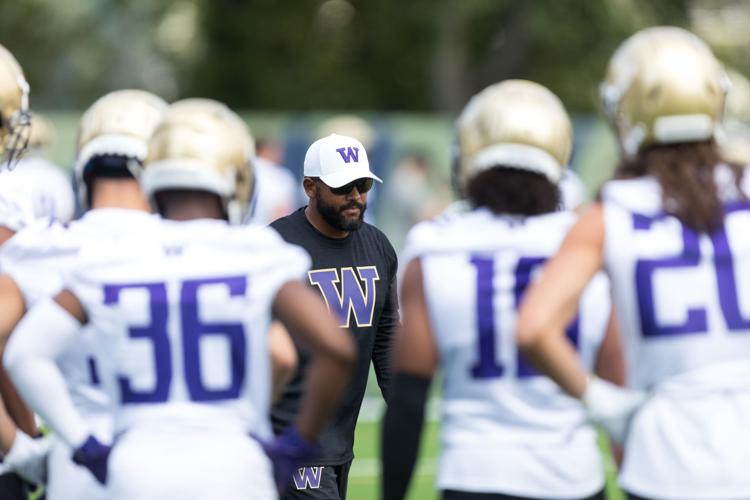 The two linebacker rooms on the Washington football team come into this season in very different places. On the outside, a group that had an underwhelming 2018 campaign returns everyone, a year older and more experienced. On the inside, meanwhile, the Huskies have two starters with a pair of seniors who didn't see the field much in past years and a pack of underclassmen.
"That's why we have a really good coaching staff," defensive coordinator Jimmy Lake said after Washington's third day of training camp. "You've got to be able to coach the young guys, coach the old guys, blend the two, know when we're giving too much information or too little information."
Seniors Kyler Manu and Brandon Wellington have 62 career tackles and one career sack between them. But after Ben Burr-Kirven and Tevis Bartlett both graduated, the two found themselves the unequivocally leaders of a corp that includes six true freshmen and four redshirt freshmen.
Manu and Wellington have taken every snap of 11-on-11 drills with the starting defense. Behind them, redshirt freshmen MJ Tafisi and Jackson Sirmon have been the second pairing. Those two have been paired together pretty much since they arrived on campus last year and played as a unit in spring ball as well — more by chance than design, according to inside linebackers coach Bob Gregory.
"They're certainly taking a step and getting better," Gregory said.
Behind those four, fellow redshirt freshmen Edefuan Ulofoshio and Ben Hines, and Josh Calvert, who enrolled early and participated in spring ball, the Huskies have a large group in the middle still in their first week of college practices.
"They've all been awesome so far, and helping them with any questions they have is great," Manu said.
The outlook is completely different on the outside, where the only player not returning from last year's group is Benning Potoa'e, who's moved inside to defensive tackle.
Joe Tryon and Ryan Bowman have been the usual starters so far, with Myles Rice and Ariel Ngata backing them up, but all of the UW edge rushers come in a year more mature than they were last year.
"Now just honing those techniques, fine-tuning those techniques as we get through training camp and into that first game, is very exciting," Lake said. "I know those guys are chomping at the bit. All they've heard is the negative part of their game, and I think they're excited to go show the world what they can do."
Best hands in the room update
The "Best Hands in the Room" competition among the UW secondary got murky Sunday. Coming into the day, freshman walk-on Nick Juran had the lone interception on the scoreboard. In 7-on-7 drills, Elijah Molden brought in his first takeaway of training camp, picking off Jake Haener. Another freshman walk-on, Mishael Powell, thought he had an interception off of Jacob Sirmon, but was flagged for on a questionable pass interference call.
Right after that, Juran looked like he had taken the lead back, diving forward to catch a tipped ball from Dylan Morris. After deliberation, the coaches gave him the pick. 
In the final period of 11-on-11, Molden came down with his second interception of the day, again off of Haener, and Myles Bryant opened his account off of Haener in the end zone.
As it stands now, Molden and Juran are tied at two picks apiece. After practice, Lake said the ultimate decision on Powell's and Juran's would come down to a jury of the secondary during film study.
Other notes
- Jacob Eason had one of his better throws of camp Sunday, finding Chico McClatcher on a 45-yard bomb down the right sideline for a touchdown.
- True freshman Dylan Morris continues to look good with the fourth-team offense. His drive during the first 11-on-11 portion of practice lasted just one play, a 45-yard touchdown up the seam to Fatu Sua-Godinet.
- Julius Irvin worked in at nickelback with the second team defense for a short period.
Reach Managing Editor Josh Kirshenbaum at sports@dailyuw.com. Twitter: @J_Kirshenbaum
Like what you're reading? Support high-quality student journalism by donating here.