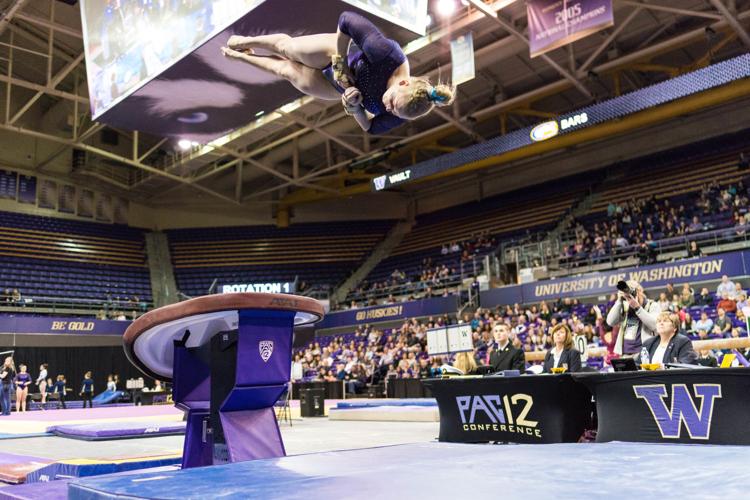 The Washington gymnastics team made the National Championship for the first time in 18 years in 2016, Elise Ray-Statz's first year as head coach. The next year, the Huskies kept up the high level of gymnastics, making back-to-back trips to St. Louis.
"Our goal every season is just to get a little bit better than last season," Ray-Statz said. "Our past two seasons since I've been head coach have been amazing and we just need to take one more step in that direction."
The Huskies don't just want to get better. They need to get better if they hope to make the National Championship for the third year in a row. The past two seasons, they made it to the championships as the No. 11 seed. This year, only eight teams will make it in. Washington is ranked No. 15 in the preseason coaches poll, but the goal is to be among the eight best teams in the country by April.
The Huskies want to start off their bid on a high note this Saturday as they face No. 8 Nebraska in Lincoln at 5 p.m. The meet will be livestreamed through Nebraska's website.
"We always want to start off really strong," Ray-Statz said. "I don't want to take the first meet as a 'getting used to the season' meet, I want a really strong first meet. That'll just set us up for [the] season."
For the Huskies, that strong first meet means specific numbers.
"Our team goal for our first meet is to go 196, so that means a 49-plus on each event," senior Monica Riley said. "I think our big goal is just to put all four events together."
In both Ray-Statz's two previous seasons as head coach, Washington didn't hit the benchmark of 196 until its third meet of the season. The Huskies have trended toward scoring a little bit higher almost every meet of the season in those two years and starting off with a 196 will set them at a higher starting point.
It won't be an easy task to earn at least a 49 on each event, especially when several members of the team have yet to see NCAA competition.
The only current sophomore on the roster, Geneva Thompson, appeared only in exhibition for the Huskies last season. This year, Washington's underclassmen, making up 50 percent of the team, will be necessary to rounding out the lineup.
There's six freshmen on the roster, the UW's largest class in four years, and the preseason has been what Ray-Statz described as a "steep learning curve" as they make the jump to college gymnastics.
"It's totally new, going from club it's more individualized and going to college it's more about the team," senior Malory Rose said. "That's a big transition and I think they've handled it really well."
Despite the big change, the Dawgs think their freshman will be ready in Lincoln on Saturday in big thanks to upperclassmen leadership by team captains senior Kristyn Hoffa and juniors Evanni Roberson and Madison Copiak.
"They are the meat and bones of this team," Ray-Statz said. "They are such rockstars. They not only lead by words, by telling their teammates what to do, but they are leaders every single day in this gym. By their work ethic, by the quality of their gymnastics, by verbalizing their goals and what we're about."
Reach Social Media Editor Hailey Robinson at sports@dailyuw.com. Twitter: @haileyarobin
Like what you're reading? Support high-quality student journalism by donating here.