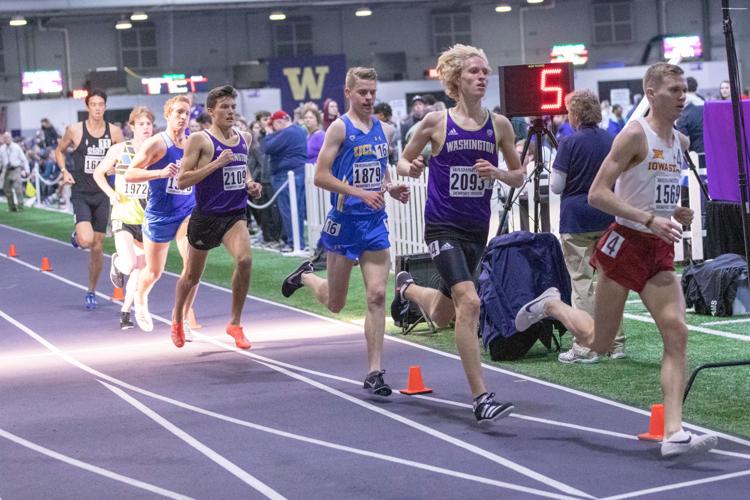 One of the strongest aspects of the Washington track and field team this year has been the men's distance team. The squad is led by many returning athletes but also feature two excellent freshmen, Luke Houser and Sam Tanner, who both set Husky freshman records at the UW Invitational.
"It's been excellent so far, training has been going great," Houser said. "I've had two great races so far."
Houser, from Woodinville, set the freshman record in the 3,000 meters after running a 7:58.96 which also puts him at seventh all time in UW history. He believes that the record is just the starting point this season, and hopes to keep his momentum going into this weekend.
"It's an honor really, there's been a lot of great runners who came through here," Houser said. "It's a big mark and I just want to keep the momentum going forward."
Houser credits his training this fall for the stellar start he has had in his first year on campus. His teammates have helped him become a much better runner in the short time he's been at the UW. 
"I'm running with a bunch of guys that can push me every day in workouts," Houser said. "That's just improved my training so much."
Tanner has traveled much farther than Houser to find himself at the UW. Originally from New Zealand, he set the freshman record in the mile by running a 3:59.01, the second-ever sub-four-minute mile in his career. Tanner believes that running cross country this fall is one of the main reasons he was able to adjust to American life and compete at such a high level this winter.
"A lot of things are different, but the holistic approach has benefited me really well," Tanner said. "But the development [in] cross country has helped in getting a strong base under me and I think it's set me well for the track season."
Both Houser and Tanner believe that they have been able to push themselves to improve and set the records. They have been able to push themselves and their teammates to a great start this year. Tanner even credits Houser for pushing him to get the freshman record. 
"To set after Luke, it gave me a little bit of inspiration, drive, and motivation to get the record," he said. 
Houser and Tanner definitely aren't the only athletes performing well for the men's distance team this year. The UW men's 3,000 meter and mile squads rank No. 1 and No. 2 respectively in the national rankings for each event. 
Houser, Tanner, and the entire track and field team return to Dempsey Indoor this Friday and Saturday for the Husky Classic. 
Reach reporter Nick Lombroia at sports@dailyuw.com. Twitter: @lombroia
Like what you're reading? Support high-quality student journalism by donating here.