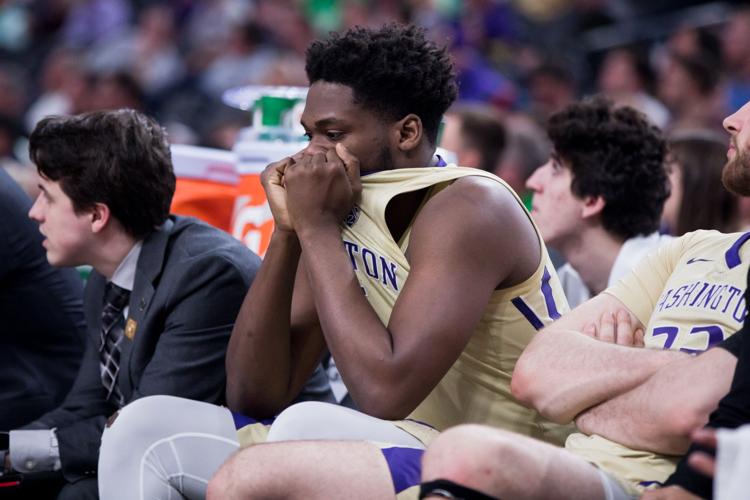 LAS VEGAS — What started so well ended so badly.
The Washington men's basketball team's time in Las Vegas ended with one of its worst performances of the season, a 68-48 loss to Oregon. Was it a performance bad enough to keep it out of the NCAA Tournament? Probably not, but until we find out for certain tomorrow afternoon, what can we take away from the UW's time in Sin City?
A tale of two second halves
Against Colorado on Friday night, Washington went into halftime down, but came back and started the second half on a 20-5 run. Tonight, the Huskies went into halftime down, and gave up a 20-9 streak.
Washington waited nearly eight minutes between its first and second field goals in the second half, during which the deficit went from two points to 14. The Dawgs then waited another six-and-a-half minutes until their next, and by that time, the game was over.
"I thought we got some decent shots, we got the ball where we wanted to get it," head coach Mike Hopkins said. "Sometimes the ball just doesn't fall. We tried to be aggressive and tried to get to the foul line, and that didn't happen."
No UW player scored more than five points in a half in which the Huskies shot 22 percent from the field. Ouch.
Maybe it's just Oregon
When Washington went to Eugene in January, it squeaked out with a win thanks to a bit of a controversial last-second call in its favor. When the Ducks came to Alaska Airlines Arena in February, they nearly ran the Huskies out of the building in the first half before coming away with an easy 55-47 win. Round 3 in March was a laugher in UO's favor.
Maybe it's just this team.
"They're imposing themselves on teams," Matisse Thybulle said.
The first half in February and the second tonight were arguably Washington's two worst halves of the season, and they happened against the same team. One that's rolling, and is built to stop the UW.
In both games, the Huskies shot 33.3 percent from the field, their lowest in conference play. Washington's 21.7 percent clip from long range actually looks good in comparison to its 15 percent against Oregon in Seattle; both of those are season lows.
Washington's two lowest scoring outputs? Tonight's 48 and February's 47 against the Ducks.
Safe to say, the Dawgs will be happy not to see the Ducks again this season.
And now we wait...
That's not enough to push the Huskies out of the NCAA Tournament, right?
Right?
Washington is still the regular season Pac-12 champions. The Huskies still made a run in their conference tournament. They won 26 games. But the way that game went, on national television, may have planted a few annoying seeds in the back of UW fans' heads.
The Huskies will fly back home to view the Selection Show from Hopkins' house, and they're still confident they'll hear their names called with an at-large bid.
"Right now obviously we're all disappointed," Hopkins said. "These guys are winners. Losing stinks, winning is great, and we didn't get it done tonight. I just told these guys we have to flush this thing down the toilet. We've had an incredible season, we've gotten this far. We just had a bad game; that happens."
Reach Sports Editor Josh Kirshenbaum at sports@dailyuw.com. Twitter: @J_Kirshenbaum