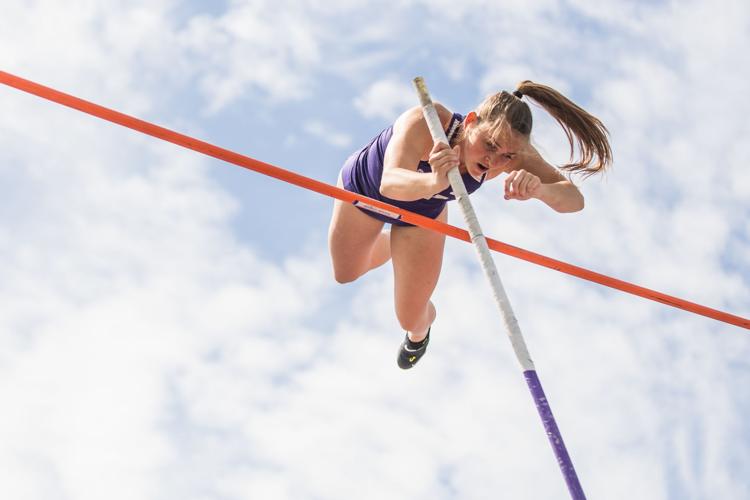 Contrary to the name of the meet, more than just relay runners will be in Arkansas this week for the Washington track and field team.
Among those athletes is senior Onyie Chibuogwu, who set the outdoor school record for the hammer throw just last weekend in California. Her throw of 208 feet and 3 inches is currently good for tenth best in the NCAA West region.
"It felt great honestly, it was funny because after I threw my throw, I didn't think it was gonna be that far, like it felt good, but I could tell that like technically I missed a few things in the throw," Chibuogwu said. "So me and my coach were just reviewing and talking about it, and they read the mark out loud and we were both like: wait what?"
Other throwers Ginny Mehl, Elijah Mason, Denham Patricelli, Jacob Wachtendonk, and Jonah Wilson will also be joining Chibuogwu. Mason holds the fourth best discus throw in the region, while Wilson ranks sixth in the shot put. Mehl sits at 48th in the region so a big improvement could push her to qualify.
"We're not used to going this far traveling, so having a long travel day, then coming back and having to perform is going to be a good test for us," Chibuogwu said.
This meet is the first time the team has made the trek to the eastern half of the United States since the 2015 Drake Relays in Des Moines, Iowa.
"I think our group tomorrow is doing a 12 hour day of travel, and today we did a ten to 12 hour day of travel, so it's long and it's challenging," Chibuogwu said.
Along with the throwers, a lot of sprinters will be making the journey to Fayetteville, Ark. The women's side will consist of Imani Apostol, Morganne Hill, Carly Lester, and Darhian Mills. The male sprinters will be Cass Elliott, Devan Kirk, Jordan Lucas, Jason Palmer, Kemuel Santana, and Khalil Winfrey.
Select pole vaulters will also jump in Arkansas, including Annika Dayton and Chase Smith. Jaylen Taylor will compete in horizontal jumps for the Dawgs.
"I think this is gonna be a good test, it's gonna be fun," Chibuogwu said. "The group that's going, we've worked for this, and we wanna have fun, we want to do good, but it's also a great time to be competing against people we haven't been competing against, and kind of see what we're made of."
Reach reporter Josh Eddy at sports@dailyuw.com. Twitter: @JoshTreEddy
Like what you're reading? Support high-quality student journalism by donating here.