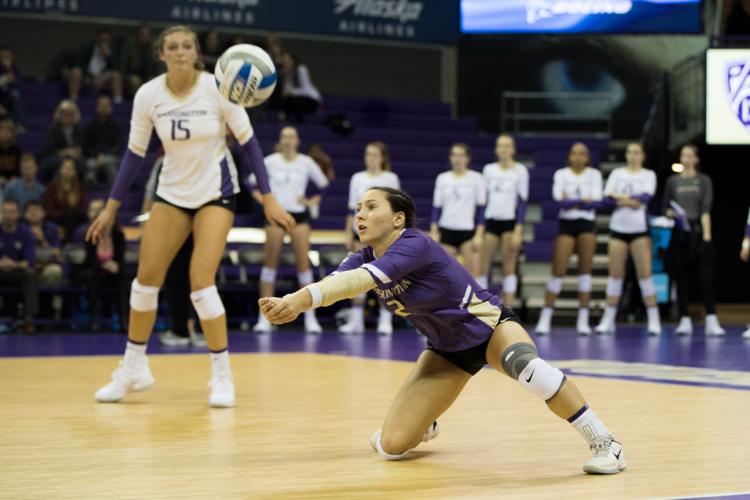 It's been nine months since the No. 13 Washington volleyball team was knocked out of the NCAA tournament in the Sweet Sixteen, but they're keeping the momentum from that better-than-expected postseason performance as their nonconference schedule kicks off in Hawaii. 
"We ended the season playing our best volleyball, and I think that's kind of where we picked up starting this preseason," junior defensive specialist Emma Calle said. 
Yes, the Huskies are picking up right where they left off, but one major thing has changed for the better: passing. 
Last year, serve-receive was Washington's sticking point. Already this preseason, however, things are looking up. When the Huskies looked back on film from their Purple and Gold scrimmage and compared it to film from last season, they noted that their passing is looking much better. 
Passing is obviously a fundamental part of volleyball, and Washington's growing chemistry and experience is helping the team get over its previous struggles. 
"Our serving has gotten a lot better, and it's making our passers more confident, seeing different serves and how to manage different types," senior libero Shayne McPherson said. 
With the loss of Destiny Julye, one of the top servers in the Pac-12 last season, Washington's serving may have been expected to suffer a little bit. But their serve, already No. 1 in the conference in 2018, will have the added benefit of improvement from sophomore setter Ella May Powell, who head coach Keegan Cook said is serving much better than she did last season. 
With a season of Pac-12 play and a summer of international experience under her belt, Powell reflects the state of the Washington team in general: more prepared and more experienced.
"Last year was a tall task, and it's still tough running an offense for a team in the Pac-12, but I like where she's at," Cook said. 
While the roster looks pretty similar to last year's lineup, a lot has changed for Washington, and the team hopes more changes are coming. The Huskies have a tough preseason slate ahead, with five games against four teams ranked in the preseason AVCA poll coming up in the next month. They're viewing their nonconference schedule as a learning experience that will prepare them for a tough conference season and a tournament run. 
There's a lot of time until December, and a lot of games before the UW gets there, but the Dawgs are looking at every game as an opportunity. 
"That's one of our core values right now, just to focus on growing," junior middle blocker Lauren Sanders said. "Preseason is the perfect chunk of time because you have all these good matches. It just prepares you to become your best self when it really matters, which is toward the end of the season."
The point where they Huskies are starting from doesn't look much like last season. Picking up from last season also means this is a much tighter knit group than the one that came together last August. They've been playing together for a year now, and have an entire spring of practices working together under their belts as well. 
"Culturally, I'm really impressed with how the group is doing," Cook said. "They seem to be really tight and connected. Relationships are a little bit deeper. They've got some shared goals and you can just feel it when you're in the gym, that everyone is pulling in."
The UW volleyball season starts this Friday against St. John's at 7:45 p.m. The Dawgs will continue tournament play against No. 21 San Diego on Saturday also at 7:45 p.m., and play Hawaii on Sunday at 8 p.m. All matches will be livestreamed on BigWest.tv.
Reach Engagement Editor Hailey Robinson at sports@dailyuw.com. Twitter: @haileyarobin
Like what you're reading? Support high-quality student journalism by donating here.