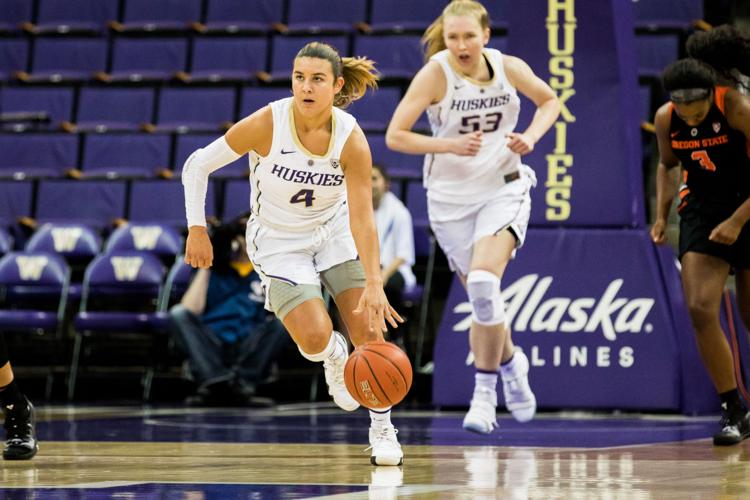 In a blowout from the start, the Washington women's basketball team fell to No. 9 Oregon State 86-39 at Alaska Airlines Arena.
The Huskies (8-12, 1-7 Pac-12) fell behind 30-8 in the opening quarter, shooting 3-for-18 from the field and 0-for-7 from distance. The Beavers (16-3, 6-1 Pac-12), shot 6-of-11 from three-point land, and held a 15-6 rebound advantage.
Oregon State continued to assert its dominance on the much smaller Huskies, building up an enormous rebound advantage and a huge discrepancy in the paint.
The final numbers aren't pretty for the UW. Washington finished with just 28 rebounds compared to Oregon State's 55. From distance, the Huskies were just 4-of-33. Their 39 points is the lowest of the season.
"Definitely don't want to forget it," head coach Jody Wynn said. "It's tough as competitors, to continue getting punched in the mouth, punched in the mouth, punched in the mouth. It's tough to watch us not punch back, figuratively. At some point, we have to say enough is enough and we have to lay some wood on somebody."
The Beavers were led by Destiny Slocum once again, who scored 28 points. Lynnwood, Washington native Mikayla Pivec scored 12 points and notched 19 boards for Oregon State.
Junior guard Amber Melgoza was Washington's leading scorer at 20 points on 9-of-21 shooting. Everyone else shot a combined 6-of-48.
"It's another game where our offense dictates our defensive energy, and when we aren't making our shots we're not interested in playing any [defense]," Wynn said. "Simple as that. Credit them, they moved the ball beautifully, found the open shooters, and knocked them down. They killed us on the boards. I just wanted to see a little more fight out of us tonight and I don't think we had it tonight."
Melgoza on the cusp
After a tough fadeaway shot late in the fourth quarter, Melgoza scored her 999th career point, just one away from the 1,000-point club.
Melgoza was subbed out with three minutes to go in the fourth, and will all but surely break the 1,000-point barrier in Washington's next game against No. 5 Oregon on Sunday.
Reach Assistant Sports Editor Alec Dietz at sports@dailyuw.com. Twitter: @AlecDietz
Like what you're reading? Support high-quality student journalism by donating here.