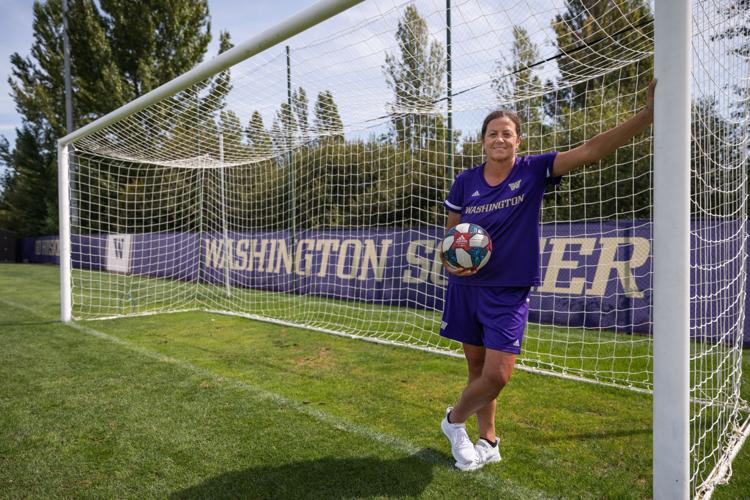 Coaches come and go all around the country, especially in college athletics, so it's noteworthy when one can stay at one program for so long. For Lesle Gallimore, the longest tenured coach in the Pac-12, this season —  her 26th as head coach — will serve as her last as head coach of the UW's women's soccer team. 
Gallimore started her coaching at Washington in 1994, and despite it being just the third stop in her coaching career, she never looked in other directions.
"When I came to Washington I wanted this job like nothing else, and I knew it was special when I got here," Gallimore said. "I was never one foot in, one foot out, ever."
Throughout her illustrious career she's racked up countless accolades, including two Elite Eight appearances, a Pac-12 championship and Coach of the Year honors in 2000. Gallimore even serves as the president of the United Soccer Coaches organization. But she'll tell you the most important this isn't any of the tangibles.
"[It's] the relationships I've had with players and whether they've been tough relationships or great relationships from the beginning until now," Gallimore said. "I have so many long lasting relationships through coaching with these women who have gone on to do wonderful things in their lives or experienced hardships in their lives, and you get a note saying that I learned how to deal with this because of being coached by you.That's just life impacting."
Gallimore and the rest of the coaching staff have always had the goal of helping these young women find their way not just on the soccer field, but also in life.
And that's what she wants her legacy to be for Washington women's soccer.
"We just did it the right way, that we were fair, that I did my job with integrity, and that as a program we helped grow strong, empowered, intelligent women who wanted to go out and felt like they could change the world because the experience they had here," Gallimore said.
Many coaches cycled through the UW women's soccer program during her tenure. One assistant has remained constant in Amy Griffin, who's approaching her 25th season working alongside Gallimore. The two have become great friends who aren't afraid to have tough conversations to decide what approaches are best for the team.
"Let's keep what is the fiber of us: teaching young women how to be brave, and how to be confident and giving them the tools to do so," Griffin said. "So I think what we've been allowed to do is we'll keep them on the path, but if there's bumps in the road we don't clear it for them we teach them how to go through them."
Gallimore, Griffin and the rest of the coaching staff's approach is to give the women the tools they need to solve problems on their own, instead of finding a solution for them. Some may see this as tough love when coming into a new situation.
"With the players, she was so honest that you couldn't help but admire and respect that in a coach, but is also made us- I wouldn't quite say fearful of her, but it definitely let us know that there was a strict line," former UW and USWNT goalie Hope Solo said.
That small sense of fear came out of respect, and that these players had bought into the program and knew that Gallimore would lead them to success on and off the pitch.
"There was a perfect balance of fear and respect, and then once we all graduated, every single one of my former teammates are incredibly close to Lesle, and Amy, to this day, they are equals, they have become our close friends," Solo said. "They have gone to so many people's weddings, they make the time, the effort, and it just shows their love for every single player they've ever coached."
That amount of respect is integral to accomplishing Gallimore's main mission of teaching young women how to succeed in life, but doing so through sport.
Solo recounts that the most important lesson she learned during her time at the UW was to never be ashamed of who she was. The Olympic gold medalist did not come from the easiest of childhoods, her father was homeless and living on the streets of Seattle during her time in college.
During Solo's time at UW there was a program that's now known as Husky Centre Circle at the women's soccer games, where fans could pay hundreds of dollars to become members and enjoy drinks and snacks. Solo's father did not pay the fees but still walked in and grabbed some chips and cookies.
"I was embarrassed to see my dad go steal some chips and cookies because he was homeless, and Lesle just looked at me and said: 'Hope, stop being a grout, that's your father, everybody loved your father, you're the only one who was thinking twice about this,'" Solo said. "That love they showed me and helped me find that sense of confidence in who I am and where I came from is something I will never ever forget."
Gallimore creates an environment that is special for young women to grow and mature, and that can really make this culture feel like more than just a team to so many athletes.
"I think it feels like home because she gave me an opportunity, this is my home state and she gave me an opportunity to play in my neighborhood, in my state, where I grew up," defender Taylor Sekrya said. "I'm beyond grateful for that."
Sekyra has been with Gallimore and the Huskies for five years and has been a leader amongst her peers, being named team captain for the second year in a row. Like her head coach she is entering her last season on Montlake and hopes to end her run on a bang. One way to do that is a return to the NCAA tournament.
Gallimore is on the same page, feeling like a postseason appearance is one of the primary goals for this year's squad. But no matter if they win a national title or miss out on the postseason again, these women will get an experience more valuable than it all.
"[It's sad] to see her go because you realize how many other student athletes are going to come through the program and not get to have the life lessons that someone like Lesle Gallimore and Amy Griffin taught us," Solo said. "She's a true Husky and she would bleed purple and gold for the rest of her life."
Reach reporter Josh Eddy at sports@dailyuw.com. Twitter: @JoshTreEddy
Like what you're reading? Support high-quality student journalism by donating here.