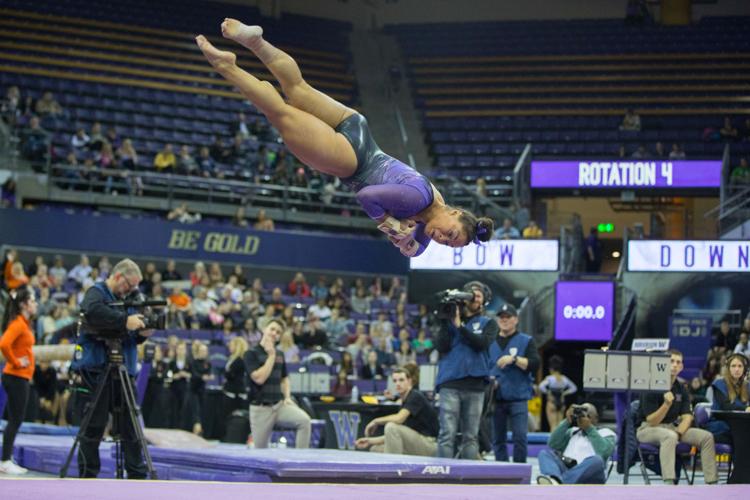 It's four weeks into the season, and the No. 12 Washington gymnastics team is starting to figure things out.
Well, sort of.
"We're getting there," head coach Elise Ray-Statz said. "We're definitely not there yet."
In all but one spot, the lineups seem set. There hasn't been much movement, except for a single floor spot. A lot is hanging on that spot in the floor lineup, though. Senior Monica Riley and freshman Brenna Brooks have both taken a turn at the spot, and thus a turn as Washington's second all-around competitor alongside junior Evanni Roberson.
There's a lot that goes into building a complete gymnastics lineup, and the Huskies still have a lot of moving pieces. There are still-healing injuries that could result in new gymnasts coming in. Junior Michaela Nelson competed on beam, bars, and floor last year, but has yet to make her season debut.
"Our lineups are still fluctuating," Ray-Statz said. "It's always really nice when we arrive at that point where lineups are solidified, but we're not there yet."
Finding solid lineups for each event depends on each individual gymnast finding consistency. After a long preseason, Washington's gymnasts are seeing things fall into place.
"Right about now is where you really start seeing how much the details add up and contribute to the overall score," junior Madison Copiak said. "A tiny detail for every person adds up tremendously and can contribute to an overall score."
Almost every deduction the Huskies received this weekend was for something tiny. Maybe there was a little separation of legs as a gymnast flew through the air on vault, or swung around the bar. Maybe there was a slight wobble landing on the beam, or a tiny step back after landing a tumbling pass.
It's why, every week, the focus for the Washington gymnasts is all in the details. It's about stuck landings and held handstands, making sure their skills are practiced and as close to perfect as possible for competition.
"We come into the gym and we work those small details because it does wonders," Copiak said. "Really going after those at this point in the season and continuing to clean up as we progress is crucial."
The coveted score in gymnastics is a perfect 10 — a routine at the highest level of difficulty without a single error. The last time a Washington gymnast scored one was January 2005.
Roberson has gotten the closest of any Washington gymnast this year, scoring a 9.950 on the beam against Arizona. She's been remarkably consistent on the event this season, leading the Huskies in three events against Oregon State.
That consistency is what the Huskies are looking for from the rest of the lineup behind her. Last weekend, the tiny mistakes added up to a total score of 195.900, their lowest at home since the 2016 season.
"All we do is get back in the gym and we give them lots of opportunities to fix those mistakes," Ray-Statz said. "Lots of numbers, lots of practicing under pressure, we'll do lots of that in the next three days."
It's a short turnaround until the Huskies fly to Stanford, but they're motivated to make use ofthose few days in the gym to ensure their small mistakes don't add up again on the competition floor.
"It's three good days of practice, and then we compete again," Ray-Statz says. "They just need another meet. The season is good that way because it's very fast paced. I actually like just a couple days of practice, a couple opportunities and we go again."
Reach Social Media Editor Hailey Robinson at sports@dailyuw.com. Twitter: @haileyarobin