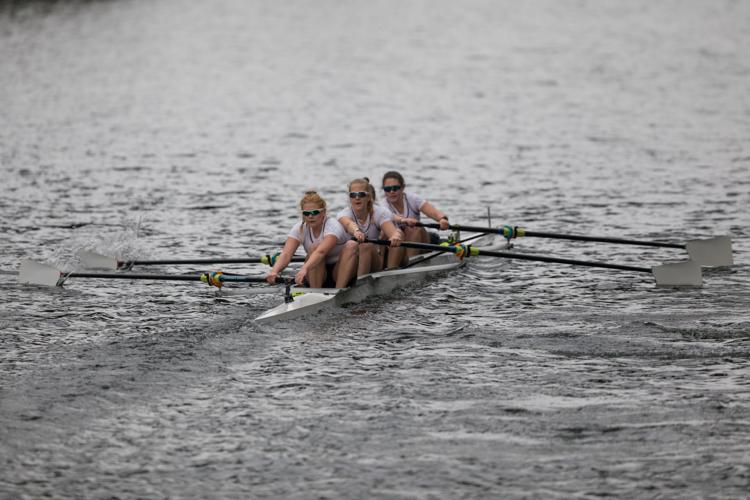 On Lake Las Vegas for the second time this season, the No. 1 Washington women's crew took down a pair of top-10 foes, sweeping three races against No. 3 Texas and No. 10 Michigan on Saturday morning. 
The races proved to be some of the closest yet for the Huskies so far this spring, as was expected by head coach Yasmin Farooq, as Washington met Texas and Michigan at last year's NCAA championships. The Huskies finished first in the final points tally, with Michigan in third and Texas right behind in fourth. 
Still, the Dawgs continued their strong start to the season against their toughest opponents thus far.
The first race of the day was the varsity four. Washington finished with a time of 6:50.59 -- just ahead of the third ranked Longhorns, who finished in 6:52.45. Michigan crossed the finish line just under eight seconds later, finishing with a time of 7:00.27. 
In another close race, Washington won by open water in the second varsity eight with a time of 6:11.40. Before the official times were announced, it was too close to call who finished second between Texas and Michigan. It turned out to be Michigan, who finished with a time of 6:15.77 compared to Texas's 6:17.39. 
In the week leading up to Saturday's races, the varsity eight experimented with different lineup choices in their boat. Some changes were made from the March 31 regatta against Washington State, including stroke Katy Gillingham moving to the bow seat, and Brooke Pierson moving from the seven seat to the stroke. 
The Huskies didn't lose any races to Washington State last month -- nonetheless, the changes proved to not be too consequential. The Dawgs finished nearly six seconds ahead of Texas (6:08.01) with a time of 6:02.60. The Longhorns were able to squeak by Michigan, who finished with a time of 6:10.11. 
The sweep marked the fourth consecutive regatta where the UW women won all of their races. Next up is the Cal Dual in Redwood Shores, Calif. next Saturday, April 21. The start times for those races have not yet been announced.
Following Cal, the Huskies will get a weekend off before competing in the Windermere Cup on the Montlake Cut on May 5. Washington swept all of its races at last year's Windermere Cup. After that, they gear up for the Pac-12 Championships on May 13. 
Reach contributing writer Jordan Duncan at sports@dailyuw.com. Twitter: @JordanDuncan43